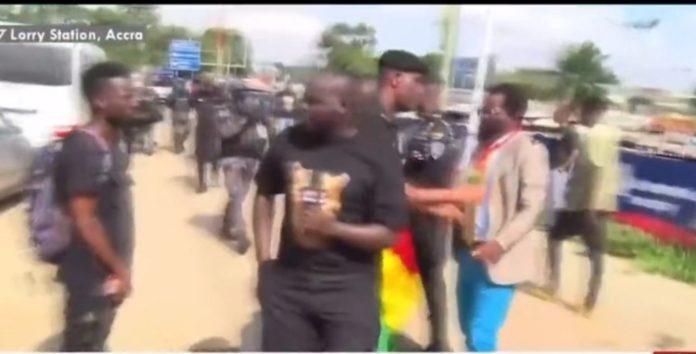 It was a moment of mixed feelings when a #OccupyJulorbiHouse protestor was arrested while granting an interview on live TV.
The protestor who identified himself as Safani was granting an interview to Joy News' Maxwell Agbabga when he was picked up by the police at the 37 lorry station.
Safani, who touted himself as a pan-Africanist, angrily condemned the police over the arrest of protestors earlier.
Police officers who were present abruptly interrupted the interview and detained him.
The protest, which according to the organisers, Democracy Hub, was to last for three days, has however been cut short on the first day with the arrest of several protestors.
The action of the police was on the back of the protestors' refusal to comply with an injunction application filed a few hours before the march.
The arrested persons have been kept at the Accra Regional Police Headquarters, Tudu.
ALSO READ:
Watch the video below:
Two #OccupyJulorbiHouse protestors were picked up by the Police during a live interview. pic.twitter.com/YWPXR5A0o6

— Hitz 103.9 FM (@Hitz1039FM) September 21, 2023