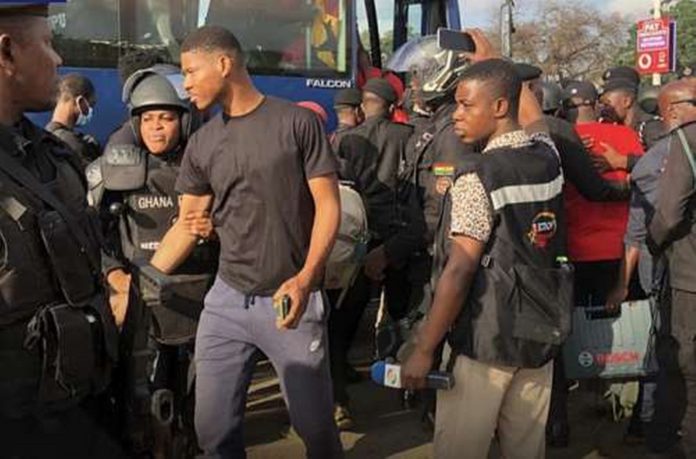 The lawyer for the organizers of the #OccupyJulorbiHouse demonstration, who were arrested, has condemned the police personnel who made the arrest.
He described the arrest of the members of the group called Democracy Hub, as "undemocratic" and said that the organizers had never received any court notice.
Approximately 50 members of the group are currently in custody at the Regional Police Headquarters in Accra.
The lawyer, Prince Ganaku, chastised the police for arresting the organizers who were equally fighting for their interests.
"To the police, these people are fighting for you. When your kids are sick, they will go to the hospitals you and I go to and not where rich people go. I know what you earn. I cannot explain to you how much these people are on your side, so when you take this stance to make an unlawful arrest.
"They are fighting for your children, and your parents' money is in the banks, if the banks collapse now, you will suffer. When the educational system goes to hell, your kids will be affected. These people are doing your work for you, we know you cannot come out to demonstrate. Look at what you are doing. You are shooting yourselves in the foot, why" the lawyer asked.
He further made a clarion call to lawyers to speak up against the arrest and also show up at the various police stations where the arrested organizers have been detained to defend the rule of law.
Mr Ganaku said he would ensure all the arrested members were released.
"I want to send out a message to all lawyers who are interested in defending the rule of law. The Ghana Bar Association, all lawyer groups, and every lawyer should know that what is going on is wrong. You should have an ethical and moral obligation to speak up in a situation like this. We are in a democratic dispensation right now; we shouldn't be seeing things like this.
"I want to send a clarion call to all lawyers to show up here to defend the rule of law. This is unconstitutional; the arrest is unlawful and unquestionable. We are going to work around the clock to get everybody released" he stressed.
Mr. Ganaku denied claims that the protestors were served a letter by the police.
"As far as I know they were not served any letter, Oliver and his lawyers have not been served," he said.
ALSO READ: