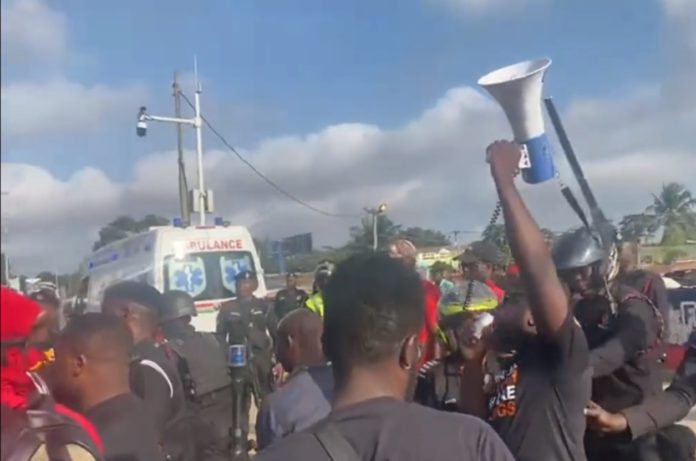 Scores of Ghanaians have taken to social media to express disappointment in the Ghana Police Service over the arrest of about 50 participants of the #OccupyJulorbiHouse demonstration.
The protestors defied a police injunction to proceed with the march on Thursday, September 21, 2023.
The Ghana Police Service filed an injunction application against the march on Wednesday and urged the general public not to participate because it was unlawful.
However, the organisers Democracy Hub, insisted the protest would go on because they had not been served.
The announcement attracted hundreds of Ghanaians to the 37 Trotro Station which was the convergence point, leading to the arrest of #FixTheCountry convenor, Oliver Barker-Vormawor and several protestors.
Several Ghanaians have reacted to the police's action on social media:
Akuffo Addo took the IGP to court about they restricting them from protesting in 1993. 30 years on he has taken the position of the restrictor. Shameless leader. A complete disgrace to every Ghanaian. #OccupyJulorbiHouse

— YB 🇬🇭 (@embempah) September 21, 2023
See what they're doing to Bridget Otoo Herh 💔💔 /#OccupyJulorbiHouse pic.twitter.com/qrqmHvHseH

— Mempeasem President (@AsieduMends) September 21, 2023
The police should increase the number of cells so they can arrest all Ghanaians #OccupyJulorbiHouse pic.twitter.com/8CScwCcpwZ

— Nungua Cardi B💕 (@ellyserwaaa) September 21, 2023
They hijacked the #AriseGhanaDemo as well & they are doing the same thing to the #OccupyJulorbiHouse demonstrators..

Be safe out there and fight for mother Ghana 💔🇬🇭🤦🏾‍♀️
pic.twitter.com/iaBpYFUqfx

— Sheila Irene 🤎 (@abena_mooley) September 21, 2023
Can't say I'm surprised just disappointed. You Ghana police the country you dey inside e dey bee you? You're happy with what's going on in Ghana? #OccupyJulorbiHouse

— Weffrey Jellington (@jeffwellz) September 21, 2023
Protestors are being maltreated and arrested for having a peaceful demonstration for a Better Ghana.

Is this the democracy they preach about? That too on Kwame Nkrumah Memorial day sighs#OccupyJulorbiHousepic.twitter.com/oPxcsKqTy4

— Concra Gh (@GhConcra) September 21, 2023
1. The police have arrested a journalist
2. The police have arrested a lawyer
3. The police have arrested multiple peaceful protesters and there are reports of police beating the protesters
4. The police are preventing lawyers from helping protesters #OccupyJulorbiHouse

— Weffrey Jellington (@jeffwellz) September 21, 2023
We won't wait for posterity to judge Nana Addo, our generation now has judged him and he is the worst president in our fourth republic. #OccupyJulorbiHouse pic.twitter.com/urdostrG1y

— Chris Atadika (@chrisatadika) September 21, 2023
👨🏾‍🍳🇬🇭✊🏾: Protestors are being moved to various police stations from the Accra Regional Headquarters to Dansoman, Sukura, and Osu Police stations, I'm informed.

Lawyers are encouraged to head to these stations to extend legal assistance for protestors.#OccupyJulorbiHouse https://t.co/5Eg45cjlyf pic.twitter.com/ivatVasrB2

— Ölele | Deep Throat Sauce👨🏾‍🍳🇬🇭 (@OleleSalvador) September 21, 2023