A missing teenager sent a heartbreaking final text message revealing she was struggling with her dad's death – just moments before she disappeared.
Haliey Wells, 17, from the city of Smithville in Tennesee, US, was last seen at her home on March 15 between 1am and 2am after she texted a family member to say she was staying with a friend.
In the text, she said she was struggling to deal with the death of her dad – with family members increasingly worried for her welfare.
And since the message two weeks ago there has no contact from Hailey who has also not appeared on social media since she was last seen.
Her mum Angela Sanders has pleaded with friends and family to look out for her as she doesn't own a vehicle and is likely on her own.
She wrote on Facebook: "Hard post for a Momma to make…be on the lookout and prayers pls!!
"Can ya'll please let me know if you see my daughter Haliey Wells, she left the house Wednesday morning 1-2am and we haven't seen her since.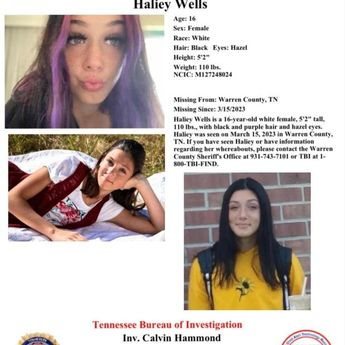 "We received 1 text on Thursday saying she needed some time to herself to think…that the death of her dad was something she just couldn't get over it.
"She said she was with a friend a girl…that's all we know. She has not responded to text or social media."
The missing teen is white, caucasian, five-foot-two-inches and weighs approximately 7 stone.
It is not known what she was last wearing on the day of her disappearance, according to authorities.
Smithville is not far from Nashville, the capital of the state of Tennessee.
Angela's emotional post has been shared over 500 times on Facebook and yesterday she was told by officers her phone has not been in use since she went missing.
Authorities believe the phone battery is likely now dead or turned off.