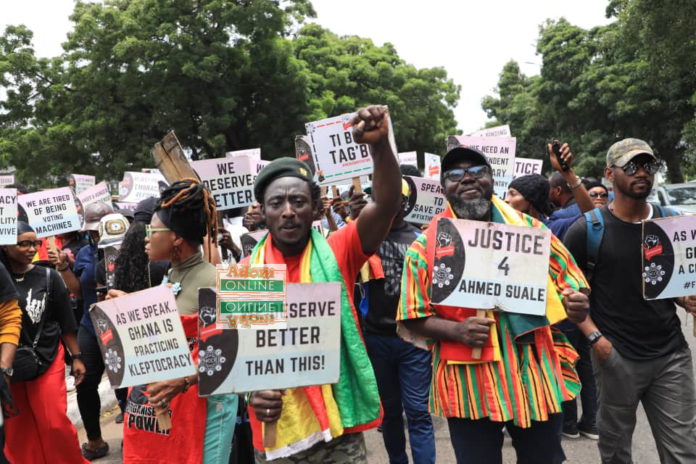 The National Peace Council (NPC) has expressed deep concern regarding the manner in which the police arrested peaceful protestors during Thursday's Democracy Hub demonstration.
In an interview on Citi News, the Executive Secretary, George Amoh, said the arrest of peaceful protestors is not healthy for the country's democracy.
According to Mr Amoh, the right to peaceful protest is a fundamental human right that is essential for a healthy democracy," the NPC said.
The NPC also called on the police to exercise restraint in dealing with protesters.
"Every Ghanaian has a right to demonstrate, it is a right that is enshrined in the Constitution that has to be protected and jealously guarded. If there is a group that wants to demonstrate in support of an activity or disagree with a particular thing, I think the laws allow for that and the authorities should ensure that such exercises are done within the remits of the law and those also exercising those rights must also respect [the law] but it is unfortunate that yesterday didn't go that way.
Some had to be arrested which is not too healthy for our democracy. We need to create an environment for people to protest, both the institutions of the state, the Police and the citizens," Mr Amoh said.
Mr Amoh also admonished the protesters to exercise restraint and not take the laws into their hands.
He added that, even though the protestors have a right to protest, they must do so in a peaceful and orderly manner.
The #OccupyJulorbiHouse protests began on September 21, 2023, when a group of protesters gathered at the 37 bus terminal in Accra to march to the Jubilee House, the seat of the Ghanaian government.
The police dispersed the protestors and arrested 49 of them.
The protesters have vowed to continue their protests until the government addresses their grievances.
They said Ghana is facing a number of challenges, including economic hardship, rising inflation, and a high cost of living.
The organisers say their protest is a sign of the growing dissatisfaction with the government's handling of these challenges.
ALSO READ: