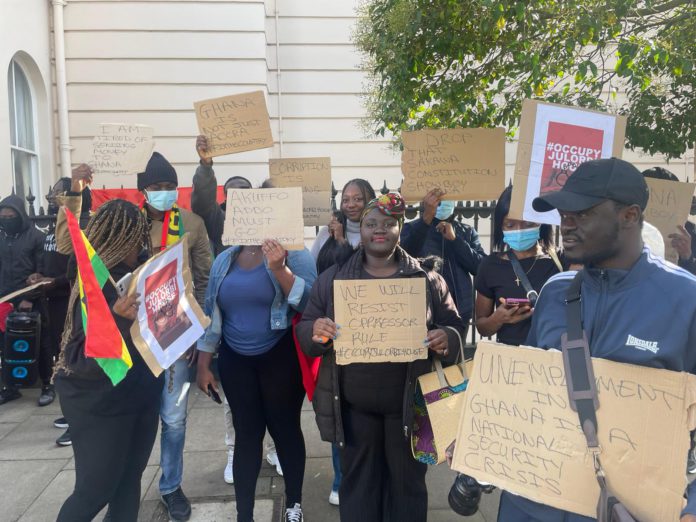 Some Ghanaians in the United Kingdom have besieged the High Commission to express concerns about the state of the economy.
Dubbed the #OccupyJulorbiHouse London Edition, the protesters wielded placards some of whose inscriptions read; Stop galamsey, Akufo-Addo we will resist oppressor's rule, drop that sakawa constitution among others.
This comes after the three-day #occupyjulorbiHouse protest in Ghana led by the pressure group, Democracy Hub.
The group chanted slogans, demanding change and accountability from Ghanaian leaders.
Joy News' Manuel Koranteng took to Twitter to give updates and share some visuals from the exercise.
Scores of Ghanaians beseech the Ghana High Commission in London in protest of bad governance and crippling economic challenges back in their home country. They call it #OccupyJulorbiHouse London Edition pic.twitter.com/OEBybEmDhJ

— Manuel Koranteng 🇬🇭🇬🇧✌️ (@ManuelKoranteng) September 29, 2023
In the heat of their demonstration, another group of Ghanaians also emerged to tout the achievements of the Akufo-Addo-led government.
Their presence resulted in a standoff between those advocating for change and those defending the status quo.
The pro-government group accused the demonstrators of mischief, suggesting that they were attempting to tarnish the government's image.
#OcccupyJulorbiHouse in London:

Meanwhile, another group of Ghanaians, suspected to be sympathizers of the current government have organized a counter protest to highlight the 'good works' of the government.

They say the other folks are not Ghanaians. See video👇👇 pic.twitter.com/kiSk0K8mLZ

— Manuel Koranteng 🇬🇭🇬🇧✌️ (@ManuelKoranteng) September 29, 2023
Manuel also reported that the attempt of the protestors calling for change to get the attention of the High Commissioner, Papa Owusu Ankomah, proved futile.
Mr Ankomah refused to grant an audience to the protesters.
His action, however, infuriated the group as some participants chased him while he moved to his car.
UPDATE: #OccupyJurlobiHouse in London

Ghana's High Commissioner to the UK, Paapa Owusu Ankomah leaves the building without granting audience to the protestors saying, he's "going somewhere."

The protestors are heard saying "you should be ashamed of yourself" as he's driven off. pic.twitter.com/IPT30js4Vt

— Manuel Koranteng 🇬🇭🇬🇧✌️ (@ManuelKoranteng) September 29, 2023