The Food and Drugs Authority (FDA) has warned the public against the abuse of Nitrous Oxide, a party drug popularly known as laughing gas.
In a public notice, the FDA said its attention had been drawn to the abuse of the substance at nightclubs and parties in the form of balloons to induce euphoria and laughter.
The authority has, therefore, warned that Nitrous Oxide gas is extremely hazardous and included risks of low blood pressure, heart attack and anaemia.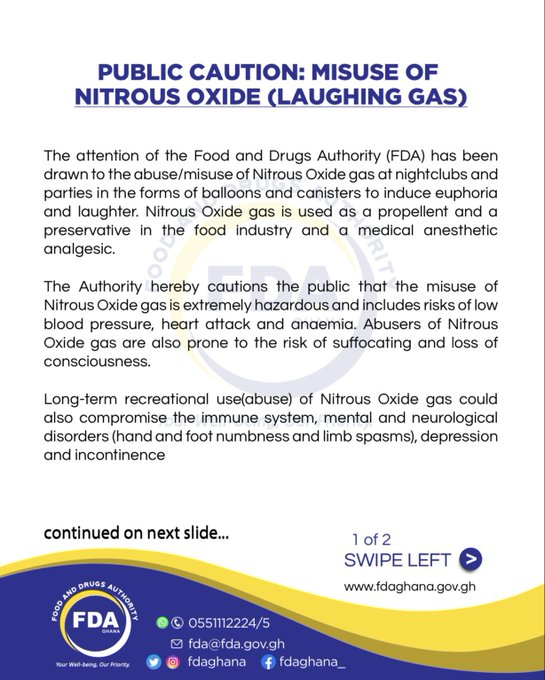 "Long-term recreational use(abuse) of Nitrous Oxide gas could also compromise the immune system, mental and neurological disorders (hand and foot numbness and limb spasms), depression and incontinence," the notice read in parts.
The public has, therefore, been urged to report cases of abuse to the FDA as it pledged commitment to addressing the issue.
ALSO READ:
Couple 'killed by laughing gas'
'Balloons': All about the new drug craze that has hit Ghana
"The Authority is collaborating with other relevant stakeholder agencies to address the emerging safety concerns. In the meantime, the FDA assures the public of its commitment to ensuring public health and safety through continuous public education, engagement and sensitization of the public on the risks of substances of abuse," the statement urged.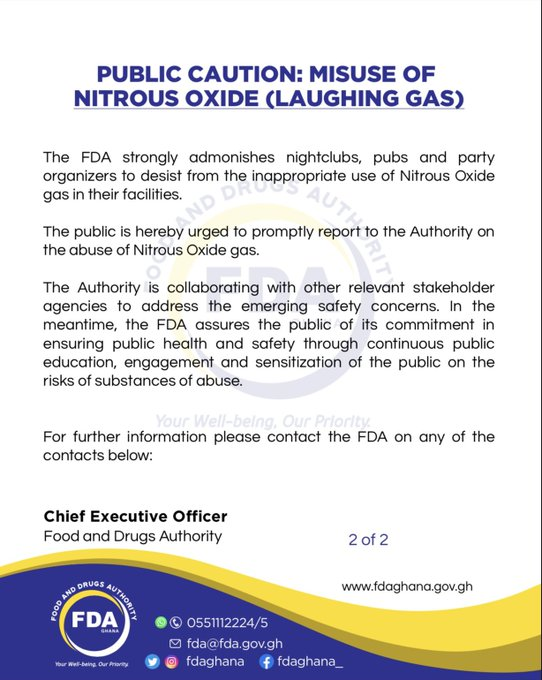 Nitrous oxide was first used as an anaesthetic in 1844, but is now being used as a recreational drug and has been linked to a number of deaths.
It can also cause breathing difficulties, dangerously increased heart rate and burns.