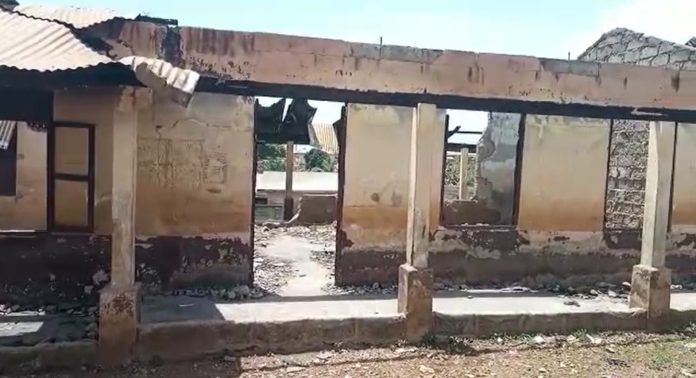 Bibiani Anglican Junior High School has resorted to a double-track education system after fire razed down their classroom block and other facilities.
On May 26, 2022, a fire outbreak destroyed the Bibiani Anglican Junior High School block and to date, authorities have not been able to renovate the block. As a result, the over 500 pupils share the same block with the primary school pupils.
The headteacher of Bibiani Anglican JHS, Charles Nyame Arthur, told Adom News that the fire outbreak happened as a result of electric power frustration on that day. He said since the incident last year May, the school has been running a shift system with the primary school.
Since the primary block cannot contain both the JHS pupils and the primary, the school has resorted to a double-track system. The primary pupils will use the classroom from the morning to noon for a week and the JHS pupils will also use it from noon to the evening.
The headteacher added the situation has not been easy for them, especially the primary pupils.
A teacher at the School, Godfred Tetteh, said because of the shift system, parents have started withdrawing their wards which is directly affecting the school enrollment.
Also, teaching and learning have been ineffective since they have a short period to spend in the classroom and they have inadequate desk for the students. The teacher appealed to the authorities to intervene.
Some of the pupils told Adom News about the challenges which they said include equipment for their practical work.