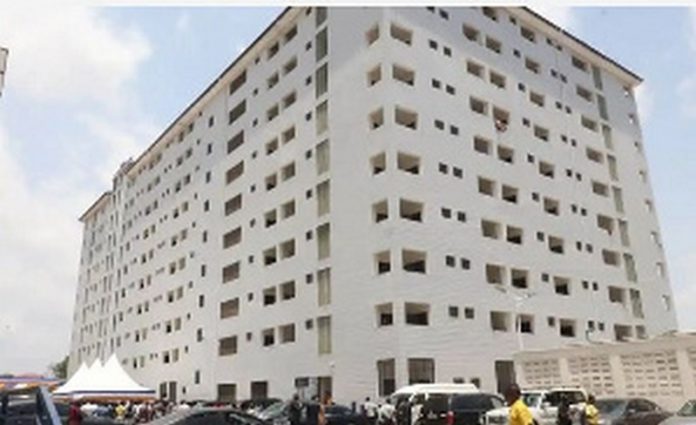 The University of Professional Studies Accra has commissioned a 1,664-bed hostel to expand residential accommodation for students of the University.
The facility, which is situated close to the University's campus near Legon, has been named after Nii Amon Kotei who designed Ghana's Coat of Arms.
Speaking at a ceremony to commission the 10-storey building, Prof Abednego Feehi Okoe Amartey, Vice Chancellor of UPSA, said the University chose to name the facility after Nii Amon Kotei to honour him for his contribution to the State.
He explained that the facility symbolises the life journey of Amon Kotei who worked with the Cartographical Division of the Army Gold Coast Printing Office.
He said, due to his illustrious work with the Royal West African Frontier Force, Amon Kotei was recommended by the colonial government and specially commissioned to design a Coat of Arms for the country.
"When it came to considering a name for this hostel, no other person's life journey best fits what this hostel symbolises than Amon Kotei," he said.
"We are proud to honour him today with the naming of this hostel," Prof Amartey added.
In a speech read on his behalf by Education Minister, Dr Yaw Osei Adutwum, the President, Nana Addo Dankwa Akufo-Addo, commended the management of the University for helping reduce the infrastructure deficit in the educational sector.
He said, though the government was doing its part by investing heavily in the education sector, it also relies on institutions such as UPSA and the private sector to partner with it in that regard.
"It is evident that this institution has been consistent in the expansion and continuous improvement in the provision of teaching and learning and accommodation facilities to give students a memorable experience while at UPSA," he said.
The President hoped that more public universities would emulate this example by adding on to their infrastructure without relying on the government.
"I am of the hope that this facility will be given the proper management and maintenance to ensure its longevity for future students to benefit from," he added.
The hostel is equipped with modern facilities, including a recreation area, Close Circuit Television Cameras (CCTV), an elevator, and each room has its own electricity meter installed.
It has also, study rooms, Junior Common Rooms (JCR), two Automated teller machines (ATM), Fire Extinguishers/Pump, Offices, a Television room, a laundry area, a car park and other amenities.