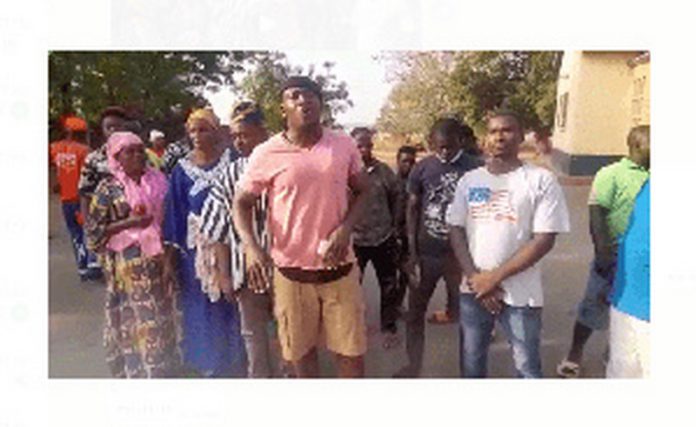 The Savannah Regional Coordinating Council (RCC) Public Relations Officer (PRO), Mufti Habibu, has invited residents and threatened an attack on a Police station in the Savannah Regional Capital Damongo
Seven (7) people have been arrested after angry youth of Buipe attacked a newly enskinned Fulani chief in the town.
According to eyewitnesses, the youth raided the Fulani chief's residence and destroyed several property, including setting part of the house on fire.
The chief, however, was able to escape in his vehicle as the youth chased him with stones, sticks, and other weapons.
An eyewitness who confirmed the incident said that the attack occurred closer to the Buipe police station where the Fulani chief's residence is located.
However, information coming in also indicates that some executives of the Gonjaland youth association have mobilized people to occupy the regional police station in demand for the removal of the suspects.
In a video circulating on various social media platforms, Mufti who doubles as the PRO of Gonjaland Youth Association and PRO of the Savannah Regional Coordinating Council is seen with a number of the youth threatening an attack on the Savanah Regional Police Station, if the seven persons arrested in connection with the attack on the newly enskinned Fulani Chief are not released.
A resident from the area who is worried about the development is wondering why the youth leader is whipping up tension in the area.
"It is unfortunate that the Regional Coordinating Council sits unconcerned whilst their PRO keeps threatening and fomenting trouble in the Region.
"This gentleman has had cause to issue threats severally on live video and yet nothing has been done to him.
"This is Mufti threatening the very security of the state. Calling on the youth to attack the police station. This is a heinous crime that must be condemned.
"Is the IGP afraid of Mufti or what. Is Mufti bigger and mightier than the state?
"How can an individual give the police a one-hour ultimatum to release suspects engaged in crime or else they will attack the police station?
"Where was Mufti when the hoodlums were engaged in that barbaric act of burning people's houses? Is Mufti above the law? We are all watching," he lamented.