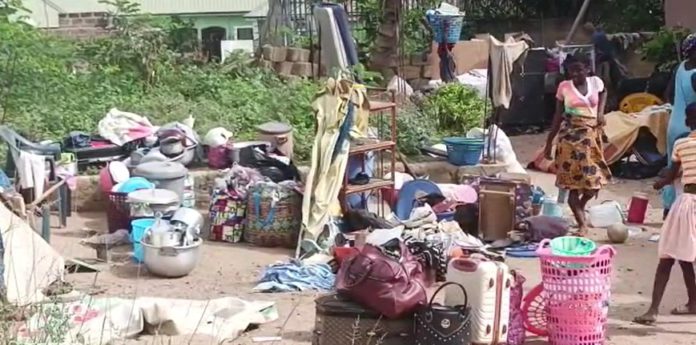 Scores of residents at Suncity, a suburb of Buduburam who have been left stranded following their eviction by a litigant in a land dispute are pleading for mercy.
The residents were evicted from their houses last Thursday by the alleged land owner under the supervision of a police task force.
According to reports, personal belongings of the affected persons were thrown out and their rooms locked with fresh padlocks provided by the litigant.
The litigant claiming ownership of the land has won a court case against property owners in the area. He claims the court has given him the right to demolish all the houses to enable him recover his land.
Sharing their frustrations on The People's Forum, on Adom FM's morning show, Dwaso Nsem, the disgruntled residents said that they are now refugees in their own community.
They revealed that, the land owner is demanding between GH¢10,000 to GH¢25,000 from them, an amount they say is hard to come by in these difficult times.
Others who have been able to GH¢15,000 were still evicted from their homes for failing to pay the amount in full.
ALSO READ:
5 collapse, over 500 rendered homeless as police evict residents of Buduburam
Robbery suspect shot dead; another bites Policeman in swoop at Buduburam
They have therefore called on President Akufo-Addo, the Inspector General of Police (IGP) Dr Akuffo Dampare and all relevant stakeholders to intervene as they are now living in fear.