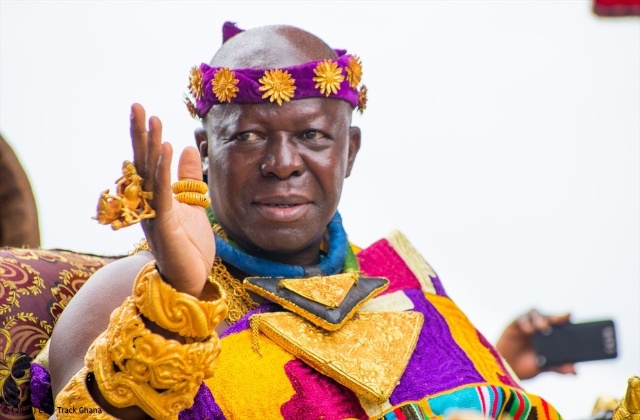 Asantehene, Otumfuo Osei Tutu II has urged chiefs to press the government and Members of Parliament (MPs)for accountability regarding stalled projects in the Ashanti region.
His call follows delays in projects such as Phase 2 of both the Kejetia Market, the Kumasi International Airport as well as the Komfo Anokye Maternity and Children's block.
Earlier this year, it was reported that contractors had abandoned various project sites over unpaid arrears owed them by the government.
Speaking to the Ashanti Regional House of Chiefs, the Asantehene said chiefs should not sit aloof, but demand answers.
"Nananom, what are we also doing? I see a lot of chiefs going to the President for favours, have we done same for the airports and our roads? Let's ask ourselves".
The Asantehene explained that the Regional Minister has been appointed to take care of all projects in the region, and questioned the role of the chiefs in ensuring the construction of these projects.
Otumfuo Osei Tutu II urged the chiefs to follow up to know what is delaying projects in the region.
"We should know if indeed there's no money to fund all these projects. Let us also seek answers from governments on why the projects are not completed," the Asantehene said.
Meanwhile, Otumfuo Osei Tutu II has urged households in and around the Ashanti region and corporate Ghana to join in the collective efforts to raise $10 million for the refurbishment of the main 'Gee' block of the Komfo Anokye Teaching Hospital (KATH). 
Since its establishment nearly 70 years ago, the block housing wards of the hospital have seen no major facelift with most installations deteriorating, including wide openings of cracks in the ceiling, broken floor tiling, algae-infested washrooms, exposed electrical wirings and congested wards. 
The hospital, with an original 500-bed capacity, now accommodates about 1,200 in-patients at its main ward.
At the grand launch of the 'Heal Komfo Anokye' project, the Asantehene prevailed on Ghanaians to join the collective efforts to refurbish the facility. 
"I visited the hospital at night. I came here
twice and I was really saddened by what I saw. Komfo Anokye whom the hospital was named after was never sick, so the hospital can't be sick. We must work together to fix it. There will be several changes in government but the building will always be there to serve us," he said.
Otumfuo Osei Tutu II continued: "I urge everyone including households in the Ashanti region to join me raise money for this project. Even 200 Ghana cedis will be appreciated. Let's support this project".
ALSO READ: