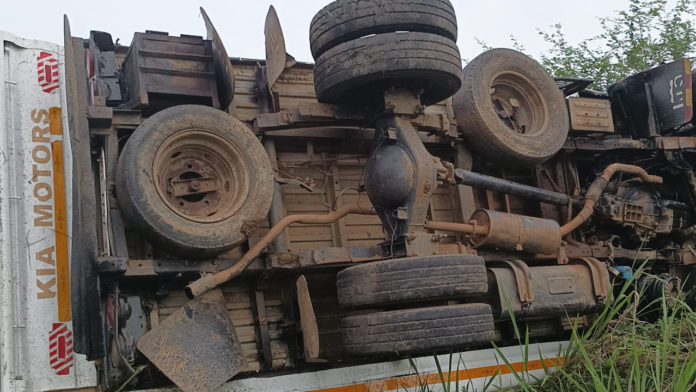 At least 16 persons have been injured in an accident involving three vehicles on the Kasoa-Cape Coast Highway in the Central Region.
Two persons are said to be in critical condition in the accident that occurred on Friday morning.
The first accident happened at Okyereko Junction after the driver of a Kia truck loaded with wood lost control.
The vehicle hit a street light pole and ran into a ditch on the stretch.
The second accident happened at Apam junction after a Toyota Fish with registration number CR 1759-21 crashed with a tipper truck.
The Apam District Fire Service Commander, ACFO Adolf Ankomah Nuamah, confirmed the incident to Adom News.
ACFO Nuamah said the tipper truck was from Mumford and the Toyota also travelling from Cape Coast.
ALSO READ:
19 injured in accident on Kasoa-Cape Coast Highway
Ambulance transporting patient involved in accident
He narrated tipper truck driver was about to make a u-turn but the oncoming Toyota driver was speeding and in an attempt to pull the brake, he veered into a nearby filling station and crashed into the stationary KIA truck.
ACFO Nuamah disclosed 16 passengers were onboard the Toyota vehicle with the victims rushed to a nearby facility.