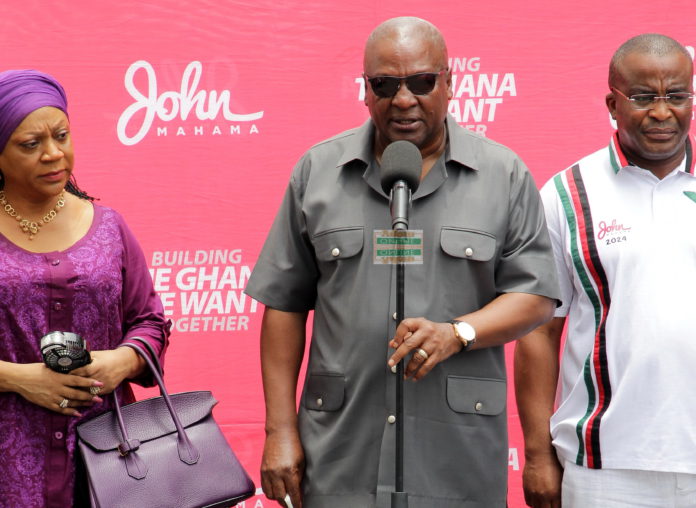 The Ashanti Regional Organiser of the School Feeding caterers, Mercy Ofosu Mensah has slammed former President Mahama over his comments on quality of food provided for children.
Madam Mercy has said the comment by the former President that food served in second cycle schools not even fit for even dogs was in bad taste.
Mr Mahama in his campaign tour in the Central Region expressed worry about the poor nature of the food being served in the various Senior High Schools (SHSs) as part of the implementation of the government's flagship programme free SHS policy.
According to him, the poor nature of the food being served to the students makes them sick and uncomfortable.
"Today, if you go to see the kind of food the children are eating in the schools…you shudder to serve such food to your dogs at home," Mr. Mahama told delegates and party members in the Asikuma Odoben Brakwa Constituency.
Reacting to this on Adom FM's morning show, Dwaso Nsem, Madam Mercy stated the caterers will not in any way provide bad food for the children despite the challenges with funding.
"You give your leftover food to your dogs and that doesn't mean we also give that kind of food to the children so I will never agree with him. Some of the teachers even eat the food we cook and even when I come and the food has already been prepared, I check to make sure it is good," she said.
ALSO READ:
School Feeding caterers in Ashanti region withdraw services over unpaid arrears
'Free SHS food unfit for dogs' comment 'unpresidential, vulgar, low' – MoE PRO tackles…
Madam Mercy stressed that, children bring blessings and they will have no reason to maltreat them.
"Why would I give bad food to children if I eat and will have problems with my stomach," she quizzed.
The caterer further reiterated their call for an increase in the feeding grant from 97 pesewas to three cedis per child.
Audio attached above: