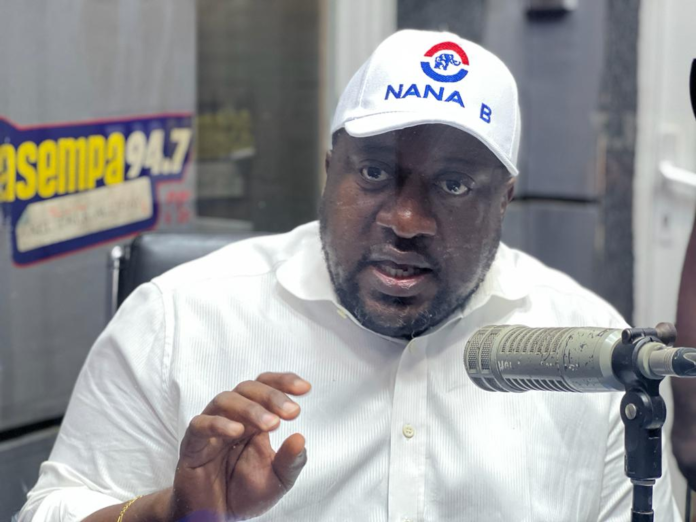 National Organiser of the New Patriotic Party (NPP), Henry Nana Boakye, has reacted to former President John Mahama's promise to scrap ex-gratia for Article 71 holders.
To him, Mr Mahama should return his ex-gratia and other benefits to the state as a sign of good faith that he will fulfil his promise to scrap it when elected as president. 
"When he was launching his campaign he should have brought a cheque of his ex gratia and emoluments he receives as a former president to the people of Ghana. Then you'll be taken seriously," he said on Accra-based Neat FM.
According to him, Mr Mahama had the opportunity to fulfil his campaign promises yet he failed woefully.
Mr Mahama's track record to Nana B as he is popularly known proves that he has nothing to offer and cannot fix the country.
"What I'm saying is former President Mahama is widely known. If former President John Mahama was president in these times, Ghanaians would be dead. We've seen what he can do. He created a man-made pandemic 'Dumsor Dumsor'. Despite the hardship, at least we still have our lights on.
"As we're speaking today we have 16 regions. We have just one regional minister. In his time, he had regional ministers and deputies.
ALSO READ:
Election 2024: Ghana needs experience not experiment – Says Mahama as he launches campaign
I will appoint less than 60 ministers, deputies – Mahama assures
"When you were given the opportunity to be president why didn't you do that?" he quizzed.
Mr Mahama launched his campaign as a flagbearer hopeful of the National Democratic Congress (NDC) in Ho on March 2, 2023.
He described himself as a "proven servant leader" who has the magic wand to reclaim power for the NDC.
He also said his government will have 60 ministers.
He added that the 2024 election requires experience and not experimentation and as a former President, he said he believed he was in the best place to rebuild a better Ghana.
The NDC will elect its presidential candidate on Saturday, May 13 as Mr Mahama faces contest from Dr Kwabena Duffuor, Kojo Bonsu, and Ernest Korbeah.