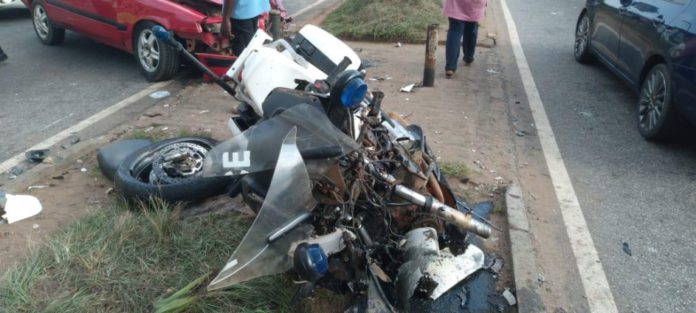 A police dispatch rider was reportedly rushed to the hospital following a head-on collision with a salon car on the Anloga Junction stretch of the Kumasi Airport road.
The road crash happened on Saturday afternoon when the rider, who was escorting a vehicle of a high-profile person, attempted to detour traffic on the Aboabo-Airport stretch using the opposite lane.
Although he had signaled oncoming vehicles to decelerate, the motorcade crashed into one of the approaching vehicles with registration AS-1142-16.
The police officer reportedly fell from his bike onto the middle of the road and sustained injuries.
The salon car consequently veered off the road and hit a nearby pole, but the occupants were unharmed.
Eyewitness accounts indicate the officer had resorted to using the opposite lane to navigate traffic on the stretch when the unfortunate incident occurred.
Eyewitnesses say the vehicle carrying the prominent figure continued its journey despite the incident.
The accident compounded traffic congestion on the route, leaving many motorists stranded for close to one hour until police officers cleared the road.
The mangled vehicles were later conveyed by a police towing truck to the Airport Police Station.