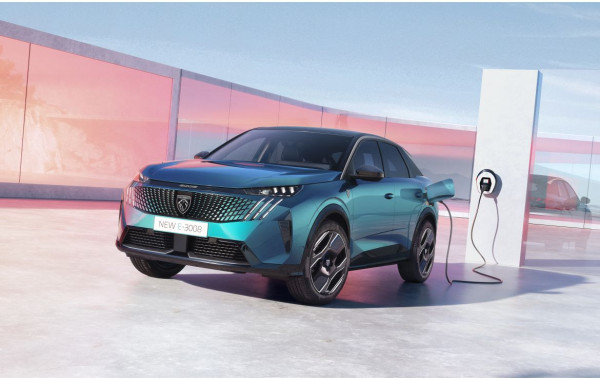 PEUGEOT (https://www.Peugeot.com/) will be out in force at the Zurich Motor Show, from 1 to 5 November 2023, where it will be showcasing the latest additions to its electrified range. The all-new PEUGEOT E- 3008 is being presented to the public as a world premiere.
ALLURE: PEUGEOT INCEPTION Concept and 11 electrified PEUGEOT models presented.
EMOTION: World premiere of the all-new E-3008.
EXCELLENCE: PEUGEOT is steadfastly moving forward in its total electrification strategy.
The Zurich show demonstrates Peugeot's ambition to become Europe's number one electric brand by 2025.
With 7 electric vehicles on display on the stand (New E-208, New E-2008, New E-308, E-RIFTER, E-PARTNER, E-EXPERT), the PEUGEOT INCEPTION CONCEPT and the world premiere of the new E-3008.
PEUGEOT is demonstrating the depth and transformation of its new electric range. With 12 electric models (including 3 light commercial vehicles), by 2024 PEUGEOT will offer the widest electric range of any European volume car manufacturer.
PEUGEOT is also supporting its customers in the transition to 100% electric vehicles and will also be presenting its hybrid models in Zurich: 308 SW PLUG-IN HYBRID 180, 408 PLUG-IN HYBRID 225, 508 SW PEUGEOT SPORT ENGINEERED 360 and 5008 HYBRID 136.
The 36th Zurich Auto Show runs from Wednesday 1st November (Press Day) to Sunday 5th November, 2023.
New PEUGEOT models at the Zurich Auto Show:
New PEUGEOT E-3008: the "Next-Level" electric fastback SUV
The PEUGEOT E-3008 is the first model to use Stellantis' brand new STLA Medium platform, which is taking the PEUGEOT range to the next level. This innovative platform has been designed to offer best-in-class performance in terms of the criteria most important to customers: range (up to 700 km), recharge time (100 km in 10 minutes), driving pleasure, performance, efficiency and connected services (Trip Planner, Smart charging, Vehicle to load and Over The Air updates).
The new PEUGEOT Panoramic i-Cockpit® takes driving pleasure to the next level with a spectacular 21-inch curved floating HD panoramic screen that brings together the head-up display and the central touchscreen.
The PEUGEOT E-3008 will be produced exclusively at the Sochaux plant in France and will go on sale in early 2024.
New PEUGEOT E-208: irresistible and fun to drive
With its irresistible new look and sportier design, its even more technologically-advanced PEUGEOT i-Cockpit® that boosts driving pleasure and its new range of electric powertrains, the new PEUGEOT E-208 is set to build on the success of its predecessor, the best-selling 100% electric model in its segment in Europe by 2022. Particularly versatile and high-performance, the new 115 kW/156 bhp engine and its 410 km range (WLTP combined cycle) will be showcased on the stand.
New PEUGEOT E-2008: The feisty, agile SUV
As a best-seller in the B-segment SUV market for more than 3 years, the PEUGEOT 2008 takes design, technology and electrification to a new level. More Allure with its elegant character and assertive SUV design. More Excellence with a new 115 kW/156 hp electric engine offering up to 406 km of range (WLTP combined cycle).
New PEUGEOT E-308: 100% Electric and 100% Irresistible
The unique look of the E-308 combines the driving pleasure inherent in PEUGEOT models with segment-leading efficiency. The new E-308 is equipped with a 54 kWh battery and offers a range in excess of 413 km (WLTP combined cycle). It is also available in SW silhouette, a rare offering on the market.
Distributed by APO Group on behalf of Peugeot.
Press Contacts:
presse@peugeot.com
Links:
PEUGEOT
Press Site: https://apo-opa.co/47fqrrZ
Social Media:
Twitter: https://apo-opa.co/3R0xrTM
Facebook: https://apo-opa.co/47AlABt
Instagram: https://apo-opa.co/3ul8v0s
YouTube: https://apo-opa.co/40IUtBW
About PEUGEOT:
PEUGEOT is an inventive premium generalist brand. The Power of ALLURE is its new promise, reflected in each of its models and services. Allure (attractive design), Emotion (instinctive driving pleasure) and Excellence (uncompromising quality and ease of use) are its values. PEUGEOT is present in more than 130 countries and the Brand sold more than 1,050,000 vehicles worldwide in 2022. By 2025, all its models, both passenger cars and commercial vehicles, will be electric. The PEUGEOT E-LION project is a 360° approach to achieving the Zero Carbon goal in 2038. The PEUGEOT 9X8 electrified hypercar demonstrates the Brand's passion for motorsport and is entered in the World Endurance Championship (WEC), including the Le Mans 24 Hours.