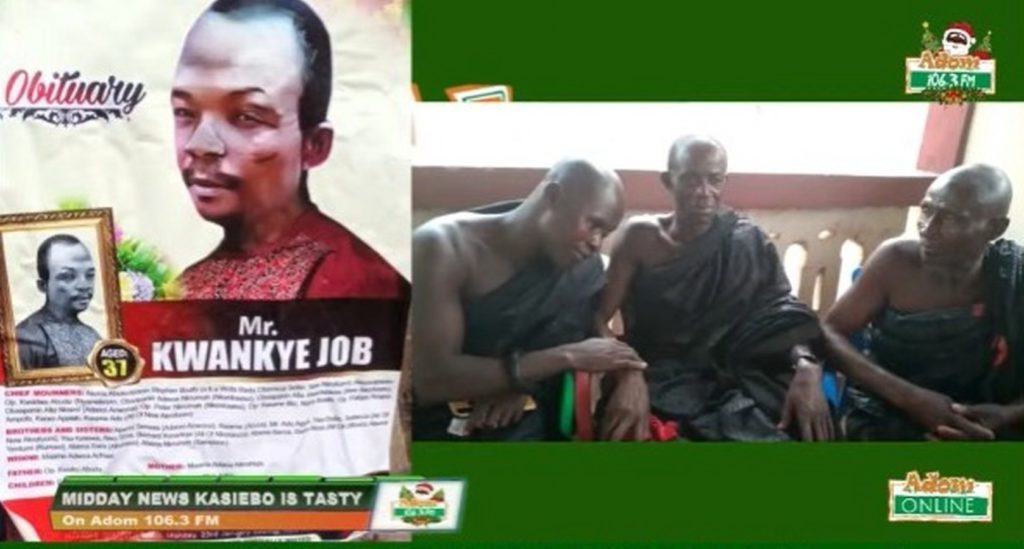 Tension is brewing at Akrofoum near Anhwiaso in the Adansi Asokwa District of the Ashanti Region after a family used a pastor's photo for their relative's obituary.
The deceased is 37-year-old Kwankye Job while the pastor at the centre of the controversy is 40-year-old Emmanuel Dumavi of the Missionary Evangelical Ministry.
Mr Dumavi said he cannot fathom the rationale behind the family's action, especially when he is not in any way related to the deceased.
Admitting he knows the deceased, Mr Dumavi stated they used to be members of the same church but Mr Job left a long time ago over reasons he is not privy to.
He has, therefore, summoned the family before traditional authorities and threatened to put the funeral on hold until he embarks on fasting and prayers to his satisfaction.
"I will not allow them to go ahead with the funeral because I don't know why they used my photo. I am 40 and I haven't witnessed such a thing before this since I was born. So I want to pray and fast for a month before I will decide if they should go ahead with the funeral.
"I feel it is a deliberate attempt to pull people for the funeral because we don't in any way look alike," he fumed.
But reacting to the development on Adom FM's Midday News, Kasiebo is Tasty, Mr Job's family head indicated that was the only photo they found in the bag of their deceased relative who had been away for over nine years.
ALSO READ:
Sad scenes as Kumawood stars mourn with Okomfo Kolege at late wife's funeral
Akufo-Addo, Mahama, Asiedu Nketia meet at Kwesi Botchwey's funeral (Photos)
According to him, mixed reactions greeted the poster after they brought it home as some relatives stated it was the deceased but others thought otherwise.
He stated the family is yet to decide on the next line of action as all preparations for the funeral have been set for Friday, January 20, 2023.