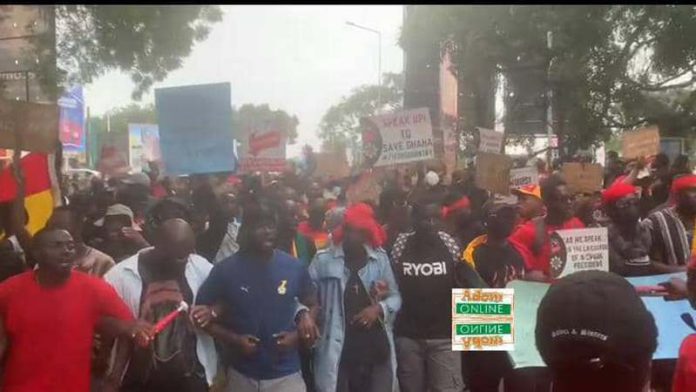 The National Commission for Civic Education (NCCE) has added its voice to the condemnation of the mistreatment of #occupyjulorbiHouse protesters by the Ghana Police Service last Thursday. 
In a statement dated September 25, 2023, the independent state institution said there was absolutely no justification for the alleged heavy-handedness and excessive response by personnel to the demonstrators.
"Indeed, it is unfortunate that after 30 years of constitutional democracy, the Police Service often appears to have difficulty responding to basic crowd control challenges and, all too frequently, resort to heavy-handed tactics," it added.
Caution
However, the NCCE also cautioned citizens that fundamental human rights were not absolute and that demonstrations, processions and other expressions of citizens' discontent must happen within the confines of the law.
"The Commission reiterates the need for all Ghanaians, including the Executive, the Legislature, the Judiciary, state institutions,  political parties, civil society organisations, and the clergy to unite and work together to help consolidate and preserve Ghana's democracy in order to bequeath to posterity, a democracy better than what we inherited," it said. 
Background
About 49 protesters participating in the protest dubbed; "Occupy Jubilee House" were arrested last Thursday for allegedly defying a court injunction secured by the police to ban the demonstration.
The protesters, made up mainly of the youth, were spotted in red and black attires with red bands around their heads and arms.
The first 30 protesters, who gathered at the assembly point, were arrested by police officers in riot gear and taken away in waiting buses.
Later, an additional group of about 19 protesters were also arrested and taken together with those arrested.
Demand
Among their reasons for organising the demonstration was a demand for the government to implement sustainable measures to alleviate the difficulties in the country.
They are also demanding some reforms, including improved governance, measures to fight corruption, reduction in the high cost of living, good economic management and improved relief packages for the citizenry, among other things.
Despite the alleged brutality, the group went on to demonstrate for two more days at the entrance of the 37 Military Hospital.
ALSO READ: