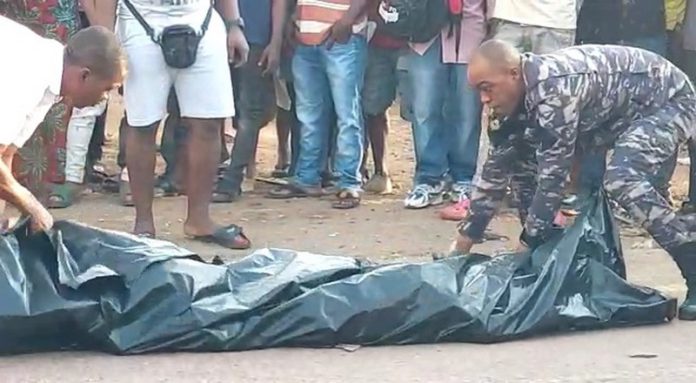 Assemblyman for Dadieso Aba electoral area in the Ashanti region, Akwasi Agyemang, has said that the town is still in shock following the attempt by a man to steal a bus.
Narrating the incident on Adom FM's morning show Dwaso Nsem Friday, Mr Agyemang said the incident happened around 4am, Wednesday.
According to him, the man, whose identity was unknown, decided to commit the crime in the absence of the drivers in the town.
"The incident happened at around 4:00 am when the man who we couldn't identify monitored the surroundings, entered the bus and drove it away. Unfortunately, the driver's mate was not asleep and realised someone was sparking the car.
"He got up and got closer to the bus and realised it was not his master but someone else and so blew the alarm. The man noticing danger drove the bus but immediately got down and ran away but residents perused him and arrested him. He was beaten to death," he narrated.
Mr Agyemang said that was not the first time someone had tried to steal a bus as this was the third time, forcing residents to take the law into their own hands.
He was, however, worried as to how residents will take the law into their own hands when they could have spared his life and handed him over to the police.
"It was not right that residents took the law into their hands. They could have handed him over to the police to investigate the matter so that it can help us to uncover the truth but since you have killed him, there is no evidence," he noted.
The assemblyman said the man's body is currently in the Komfo Anokye Teaching Hospital morgue, adding that no relative of the man has so far been identified.