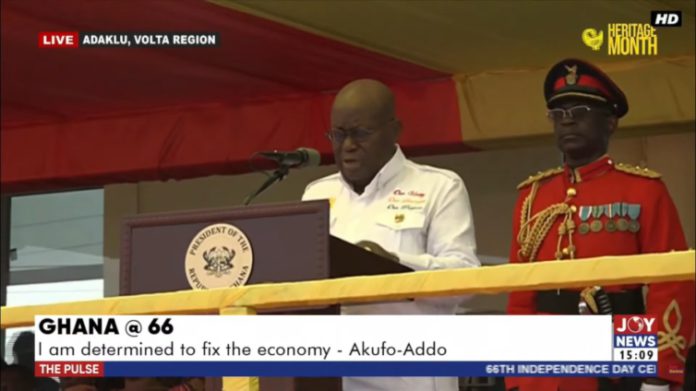 President Nana Akufo-Addo has reiterated he is very much aware of the current economic difficulties confronting Ghana.
He has, therefore, pledged the commitment of his government to resolve them.
Speaking at the 66th Independence Day celebration at Adaklu in the Volta Region, he stated major global developments have had a negative impact on domestic economic performance. 
The implications of the crisis he, however, noted could have been worse judging by happenings in other countries.
In view of this, the President has called on Ghanaians to be united and "not allow the challenges to divide us, stating there is a lot we need to be grateful for.
"Maybe we should also count our blessings and how together, we are managing the difficulties. We've all seen the images around the world. Here in Ghana, we have not had any fuel queues. We have not suffered shortages in food and essential items or the catastrophe of dumsor," he said.
ALSO READ:
Ghana@66: Let's eschew greed and divisiveness – Mahama
Let's boycott Independence Day celebrations – CPP to Ghanaians
He added the theme for this year's celebration, Our Unity, Our Strength, Our Purpose, should imbue in citizens the constant desire to seek the progress, prosperity and development of Ghana, no matter the circumstances confronting Ghana.