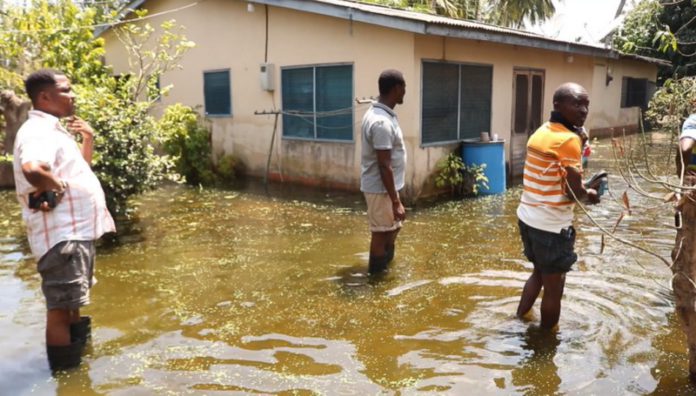 Residents in some flood-affected communities in Agbozume in the Ketu South Municipality, of the Volta Region, are still counting their losses after they were rendered homeless by floods.
According to the residents, the flood started in May this year, destroying many properties and rendering families homeless, leaving them distressed and frustrated.
Some of the communities affected are Nogokpo, Sonuto, Babanawokope, Kpedzakope, and Ativuta among others. They have been blocked and completely cut off from the main Agbozume township.
A headteacher in one of the schools, Mr. Shine Bokor said his entire building had been submerged in the water. As a result, he now stays in a guest house.
Mr Bokor noted that, life has been tough since the flood and wants the government to do something about the situation.
He alleged that, the real affected households could not even benefit from the distribution of relief items by the National Disaster Management Organisation (NADMO) but instead were given to people who were not affected by the floods.
Mr Bokor said they initially tried creating a canal to pass through the wetlands but it was not successful.
"We are also at the mercy of the thieves who are taking advantage of the situation to robe us off our properties and when you go to some places you will see human faeces on the water which can bring diseases," he lamented.
An assemblyman,  Kwame Ashiabe, also noted that a lot of people had to seek refuge in the next town, Klikor due to the severe nature of the flood.
He stated that families are going through so much and need the government's urgent attention to especially desilt the marshy areas in order to help solve the problem.
The Secretary to the Some Traditional Authority, Charles Nipson Agbagedi said, the traditional authorities set up a committee that identified some of the causes of the floods and came out with a report.
It was submitted to the authorities but they are yet to see some kind of sign of commitment, he added.
Mr Agbagedi noted that the committee realised that there was a rise in the water table which led to the flood even though the rains were not heavy.
He also appealed to the government to have culverts in the right places to prevent future occurrences.
He also joined the appeal to government, individuals and organisations to come to their aid as soon as possible.
The assemblyman for Agbozume South, Godson Ahiamadzi, said the flood has affected many things including businesses.
Meanwhile, residents complained stating some of them still live in the floods because they do not have anywhere to go.