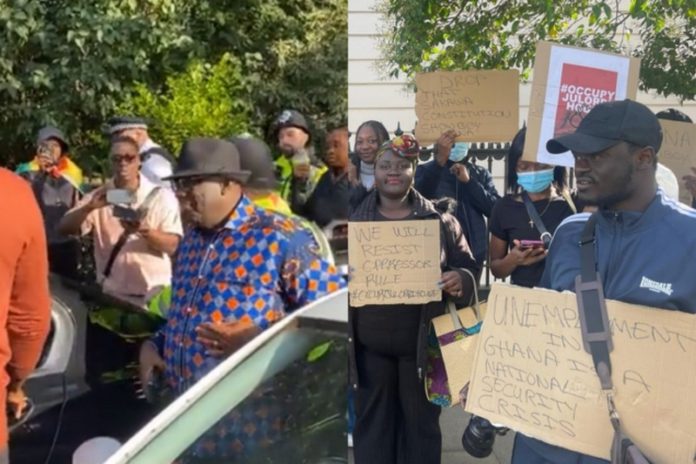 Ghana's High Commissioner to the UK left his office on Friday, September 29, without addressing the #OccupyJulorbiHouse protestors in the London edition.
The aggrieved Ghanaians living in the United Kingdom organized their version of the demonstration that took place in Ghana about a week ago, to voice their dissatisfaction with the state of affairs back home in Ghana.
In a video shared on social media, the group gathered with megaphones, amplifying some of the issues they were concerned about.
They also held placards to further emphasize their stance. Some of the inscriptions read 'Arise Ghana Youth,' 'Corruption is killing Ghana,' and 'Resist oppressor's rule,' among others.
We finally got to see the Ghana high commissioner & this man was laughing and didn't say a word to us . #OccupyJulorbiHouse pic.twitter.com/SdXAkezynD

— Your Mannzzz (@M4manuel_) September 29, 2023
Dozens of them chanted on the pavement in front of the government building.
Interestingly, another group of Ghanaians was seen at the place seemingly singing praise to the government.
Hours later, the High Commissioner Papa Owusu-Ankomah was spotted leaving the office to his vehicle.
Some of the protestors approached him for a word but to no avail.
"We came to meet you. Sir talk to us before you leave," one of them demanded.
#OcccupyJulorbiHouse pic.twitter.com/bb98piSOKu

— Your Mannzzz (@M4manuel_) September 29, 2023
Another angry protestor was heard saying "you should be ashamed of yourself," while the official was shepherded into his car by London police.
The protest first took place in Accra from September 21 to 23 which saw some persons arrested on day 1.
The three-day continuous demonstration saw protesters almost attempting to access the seat of government, the Jubilee House, but police prevented them using a barricade.
The about 50 people who were arrested on day one were later charged and released to join in the protest, as citizens heavily criticized the police for brutalizing some of them.
The police, however, denied manhandling the protesters, insisting they only sought to enforce law and order since per their injunction suit which had been served on the organizers, the protest was not supposed to have taken place.
The demonstration centered on their discontent with the government's economic management and the resulting hardships faced by the Ghanaian population.