After he was dismissed from the Police Service some 12 years ago, ex-police officer, General Sergeant, Samuel Etornam, says life has never been the same for him and his family.
Sergeant Etornam says he worked for 22 years and was dismissed for being late to a parade and for insubordination.
The incident happened when he, together with some officers, were transferred from their station in New Tafo Akyem to Bawku to ensure peace during the conflict.
"On 25th January 2010 in Bawku, we were getting ready for our duty parade. Our divisional commander asked us to do frog jump claiming that we were late, we were many that day, and he questioned why we were late when we were supposed to form the parade at 5:30pm.
"That day we got there at 5:20pm and he still said we were late and so he asked us to do frog jump. My colleagues obeyed but that evening I was not feeling well and so I pleaded with him but he didn't pay attention to me," he told Adom FM's morning show Dwaso Nsem Friday.
Sergeant Etornam said when he refused to obey his superior, he asked him to go back to his station at Akyem Tafo.
"When he asked me to go to my station, I didn't go because Bawku is a conflict zone and so there was no need I could I have gone back. I even reported to my inspector and we went there to beg the commander and he refused to listen to me and asked all my security apparatus be taken from me but I later joined my colleagues after some days and went back to Akyem, " he cried out.
The aggrieved ex-policeman said while at Akyem, he had a signal in April 2010 to report to Navrongo station for service inquiry.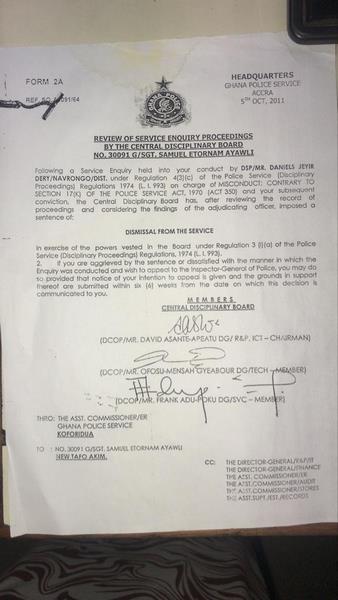 "When I got there for the inquiry, they formed a committee and placed some charges on me which I pleaded not guilty to. They levelled nine charges against me which I denied all," he added.
He, however, returned to his station at Akyem but was later handed his dismissal letter and was asked to appeal if he feels he is not guilty.
"After the letter, I appealed and had lawyers and some officers help me do that but they later told me through my lawyer that I was dismissed because I failed to appear at the service inquiry after I appeared in Navrongo instead of the higher division at Bawku," he stated.
Sergeant Etornam said his refusal to heed the calls of the divisional police commander to report to Bawku does not amount to insubordination as it was detailed in the dismissal letter.
The worried ex-police officer who said he is now a pupil teacher and security man in a security company said life has been harsh as he is unable to cater for his family.
The 57-year-old Sergeant Etornam, who has six children, said he was wrongfully dismissed some 12 years ago and is appealing to the IGP to, as a matter of urgency, look into his matter and ensure that he is reinstated to enjoy his entitlements.