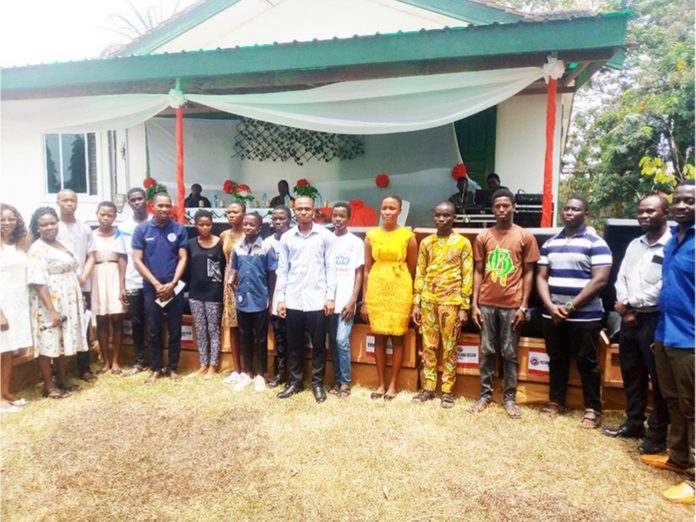 A Non-Governmental Organisation (NGO), DACE Foundation, operating in the Ahanta West Municipality of the Western Region, has supported 12 needy but brilliant students who excelled in their Basic Certificate Examination and gained admission to Grade A Senior High Schools (SHS).
The Foundation gave out mattresses, chop boxes, pillows, textbooks, provisions and a cash amount of GH¢500.00 to each beneficiary as they prepared to go to school.
The students, drawn from public schools, all had Grade A, a strict criteria for qualification to be a beneficiary of the Foundation's scholarship scheme.
The beneficiaries are Francis Benjamin Penny, Presbyterian Boys' Secondary School (Presec) Boys SHS, Oswald Quayson, Adisadel College, Francis Sackey, Adisadel College, Justice Quayson, Mfantsipim and Hilda Paintsil, Wesley Girls.
Others are Emmanuel Armah, Fijai SHS, Jennifer Adom Sosah, Wesley Girls SHS, Richmond Bissue, St. Augustine, Michael Yeboah, Ghana Secondary Technical School, Peter Annan, Adisadel College, and Emmanuel Armihere, Sekondi College.
A Director of the NGO, Daniel Payne, in addressing both the parents and the students at the gathering, pointed out that the beneficiaries secured Grade A schools.
"One criterion to be with us and qualify to enjoy our scholarship is to get Grade A schools first, and must score less than aggregate 9."
The Foundation, he added, had expended a lot on the pupils for which reason it expected good results from them.
"We hold special classes for them and prepared them – this is how we raise kids in the Foundation. When you are with us, we call you a fellow and not a student. A fellow researches and finds solutions to problems,"
He added that this was the first time they had increased the number of beneficiaries beyond 10. The scholarship scheme, he added, was up to university and beyond.
Ransford Mensah, an Administrator of the Foundation, told the gathering that the Foundation assists students and gives them guidance, most especially, in their career choices.
He added that every student who had passed through the Foundation had been excellent, and appealed to them to continue to do what made them good students by focusing on their books and associating with good students.
The Foundation, he assured, would continue to fund their education at the university and beyond.