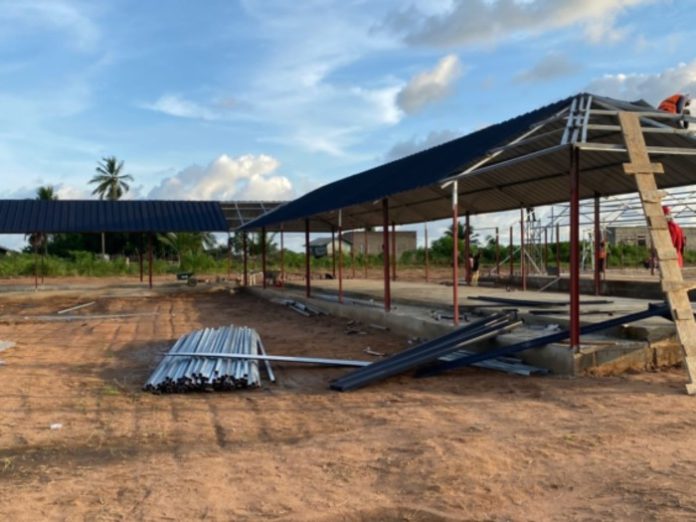 Construction Ambassadors, a nonprofit organization dedicated to community welfare, is making significant strides in its ambitious project to provide housing units for flood victims in the Volta region.
The initiative, which aims to offer a semblance of normalcy to those affected, is on track for completion in just two weeks.
The construction site, a hive of activity, echoes with the sounds of progress as skilled workers and volunteers collaborate tirelessly to bring the project to fruition.
The Project Coordinator, Francis Tunu, expressed optimism about the timeline.
"We've been working around the clock to ensure that these housing units are not just structures but homes that offer comfort and security to those who have lost so much," Mr Tunu remarked.
The housing units, designed with resilience and practicality in mind, will provide shelter for families who have faced the brunt of the recent floods caused by the Akosombo dam spillage.
Each unit is equipped with essential amenities to cater to the immediate needs of the residents.
The Construction Ambassadors have been actively engaging with the affected communities, seeking input and feedback to tailor the housing units to the specific needs of the residents.
This collaborative approach ensures that the project not only meets basic requirements but also fosters a sense of ownership and community spirit among the beneficiaries.
As the deadline approaches, the Construction Ambassadors hope that the housing units will be able to provide the needed relief to the flood victims and help them get back to normal lives.
"The success of this initiative lies in the collective effort of the community. We welcome anyone willing to contribute their time and skills to join us in making a difference,"Mr Tunu urged.
Residents are delighted about the housing units and are hoping to move in as soon as possible.