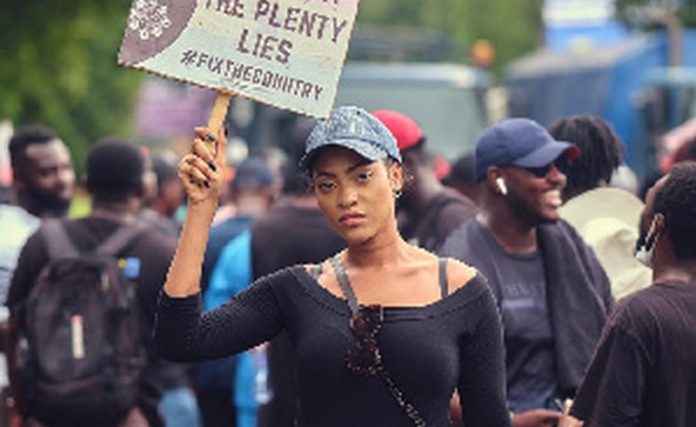 Princess Fathia Nkrumah, the granddaughter of Ghana's first President, Dr. Kwame Nkrumah, took a prominent role during the second day of the ongoing OccupyJulorbiHouse protest.
On Friday, September 22, Princess Fathia Nkrumah was with several celebrities and notable public figures who led the protestors on a march towards Jubilee House in protest over economic hardships and subpar living conditions.
In a striking photo posted on her Twitter page, Princess Fathia Nkrumah held a placard with the bold statement, "Not even the rain could deter us!"
She also shared excerpts from the Police Service Act on her social media platforms to educate citizens about how to interact with the police.
Among the other prominent figures who participated in the protest were singer and actress Efia Odo, actor turned politician John Dumelo, talented artiste, Efya Nokturnal, popular singer Kelvynboy, and the influential content creator, SDK.
Check out the photos below:
Know your rights under the Police Service Act, 2012 (Act 849), in dealing with the police today as we continue the fight! #OccupyJulorbiHouse ✊🏽
Follow @Ghfixthecountry for protest updates and developments. pic.twitter.com/5y8noQojqK

— Princess .F. Nkrumah (@FathiaNkrumah) September 22, 2023
Not even the rain could stop us! #OccupyJulorbiHouse #FixTheCountry ✊🏽 pic.twitter.com/68QdBkS5lo

— Princess .F. Nkrumah (@FathiaNkrumah) September 22, 2023
#OccupyJulorbiHouse #FixtheCountry @EugeniaLeads @_Princesss_AJ ✊🏽 https://t.co/eEQ51Kj6aP pic.twitter.com/oamO8BFHKY

— Princess .F. Nkrumah (@FathiaNkrumah) September 22, 2023