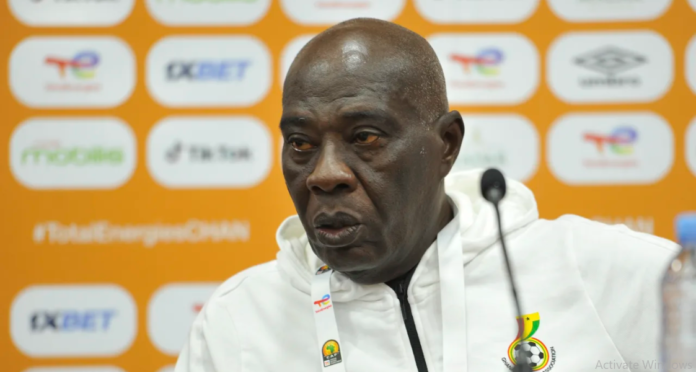 Ghana coach Walker Annor has revealed that his side has what it takes to emerge winners against Niger on Saturday in their quarter-final match-up at the TotalEnergies African Nations Championship (CHAN).
The Black Galaxies trainer is confident despite the absence of poster-boy Daniel Afriyie Barnieh who was red-carded in their last game which makes him unavailable for the clash in the Algerian city of Oran.
"Every coach needs his top man. Barnieh is out of the game tomorrow. It is a blow but all the same, if he is not there, I have the players to do the job," Walker said at the pre-match press conference on Friday.
"They will not be like him, but I have trust in every player that I have here. Perhaps, it is good that he is not there so that we also see what the others can offer. Whoever replaces him should do his best so that we do not feel his absence.
Barnieh, who converted a penalty to open the scoring for the Black Galaxies against Sudan, was sent off for a dangerous challenge in the 97th minute.
Annor is expected to be replaced by Augustine Boakye or Kwame Otu upfront as the Black Galaxies look to equal or better their past achievements at the CHAN that saw them reach the final twice in 2009 and 2014.
The calm and collected Walker emphasized that: "We do not have pressure. It is our responsibility as a team to work together to make the Ghanaians happy. I have spoken to the players, and I have been with them for one year. We have been working towards this moment. They know what to do. If they put pressure on me, I will also put it on them (Annor joked which a big smile)."
The Ghanaian tactician showed respect for his opponents when he said, "Niger has surprised everyone. There is one reason that they won. They took the advantage against Cameroon, and they progressed to the quarterfinals."
The Black Galaxies lost their opening game 2-1 to tournament debutants Madagascar before redeeming themselves with an emphatic 3-1 win over Sudan to book a place in the last eight.
Ghana have not been in action for eight days since the latter game, but Annor is not worried about his players' match fitness. He said, "Of course, we were not sleeping. We knew that we had a game ahead of us and we have been preparing accordingly."
Meanwhile, Real Tamale United midfielder David Sandan Abagna echoed his coach's words and highlighted what this victory would mean for the people back home.
"We are ready. We are a team. We made some mistakes in our first game against Madagascar, but we corrected them. We need to stay focused on our game. There is no small team in this tournament. We saw that against Madagascar.
This tournament is a big platform. The experience has been great. We are not used to this kind of weather back home, but we are managing. The organisation is great, and we are grateful to be here. We want to make Ghana proud."
Ghana, who played their group stage games in Constantine arrived in Oran on Thursday and will tour the Miloud Hadefi Stadium on Friday ahead of their quarterfinal game against Niger on Saturday at 1900GMT.