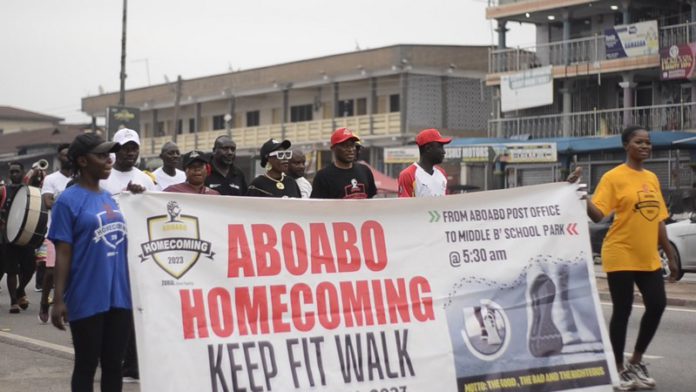 Some residents of Aboabo in the Asokore Mampong municipality have expressed their resolve to resist attempts by politicians to use them for parochial gains.
They say the youth in the area remain jobless and in poverty despite sacrificing their lives for politicians.
This was made known during a health walk to launch the Aboabo Homecoming event.
The residents walked through the principal streets of Aboabo amidst singing and dancing to launch the homecoming event.
Over the years, Aboabo in Kumasi has been in the news for negative reasons, especially, political violence.
Politicians take advantage of the joblessness and low level of education of the youth to indulge them in all forms of dubious activities.
The youth are not happy with the high level of poverty and the poor spate of development in the community.
"Aboabo is poverty prone area and we lack education, so you hardly see a graduate in Aboabo for the past 10 years until recently we have been able to come out with some graduates who are occupying positions in the current administration. People find it difficult to survive in the community so they do all sorts of crimes just to survive though not deliberately but out of poverty, those of us who are educated will change the narrative." They observed
To change the narrative, the leadership of the youth both local and diaspora has teamed to offer skills training to the unemployed youth.
Community leaders have started advocating the importance of education and the need to shun the negative drive of politicians.
They want the government to prioritize job creation which is threatening the security of the nation.
"The problem has always been the same, all the youth need is a job, so we are appealing to the government to make jobs available to the youth to reduce crime".