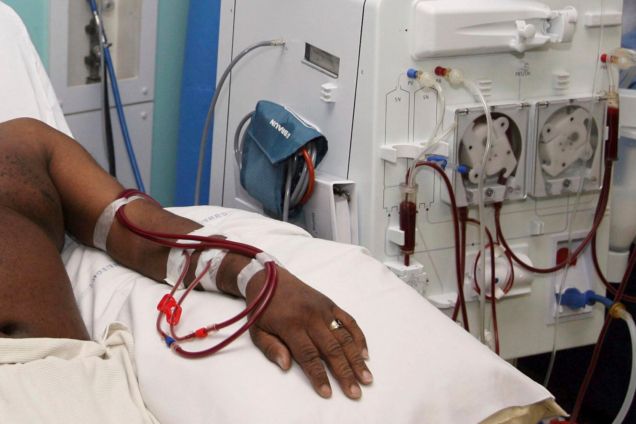 The Renal Patients Association of Ghana, comprised of individuals with kidney conditions, has disclosed that fourteen of its members passed away between May and September while at the Korle Bu Teaching Hospital.
The Association attributed this to a shortage of consumables at the facility, resulting in a limitation of dialysis services to only emergency cases.
During a press conference held in Accra, Michael Asante, a patient and member, expressed how this situation has instilled constant fear of death among many of them.
Mr Asante explained that the unit has been closed to outpatients since 22nd May 2023.
"Up to date, patients have gone through turbulent times as we struggle to finance our dialysis treatment at private dialysis centres across the city. Unfortunately, during this shutdown period, we have lost about 14 of our friends, and patients with EFRD and this has left us in constant fear for our tomorrow," he said on Monday, October 2.
This follows the outcry that followed reports of increased the cost of dialysis per session for persons with kidney conditions by over 100% at the hospital.
The Korle Bu Teaching Hospital earlier blamed the high cost of taxation for the recent increase in the cost of dialysis.
Subsequently, the Chief Executive of Korle Bu Teaching Hospital, Dr. Opoku Ware Ampomah indicated that the price hike for kidney dialysis at the hospital was just a proposed amount and has not been implemented yet.
According to him, before treatment prices are increased and approved, they must go through certain channels. This increment had not even gone through those channels before it became public.
Speaking on JoyNews, Dr. Opoku Ware also noted that, the notice had not reached the Chief Executive Office yet, implying that he himself was not even aware of it.
But the members of the Renal Patients Association of Ghana are contesting this assertion.
They say the hospital was still charging the new amount of GHs765 contrary to claims of the CEO that the new charge has not been implemented.
"I went there on Thursday and I was told that in there system they still have new price," one of them, Kojo Baffour told JoyNews.
ASO READ: