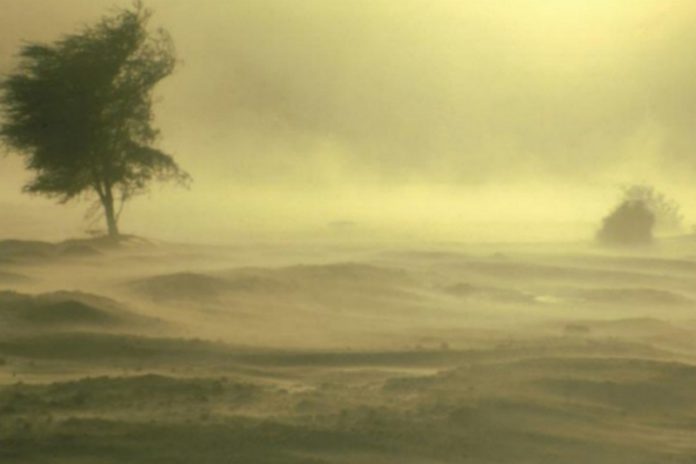 You probably have stopped applying so much lotion on your skin or ended the intermittent rubbing of lip balm on your lips, and certainly, you have switched your early morning sauna baths to a relatively colder wash down.
All of these decisions came into play after you were convinced the harmattan had ended.
When I engaged Kumaa, a coconut vendor, along the plushy Djanie Ashie Street in East Legon – a suburb in Ghana's capital, Accra – he was happily serving his customers on Friday when he felt a sharp burning sensation in his nostrils.
He tells me it only prompted him of one thing, "The Harmattan is back!"
His unpleasant feeling mirrors a similar experience you may be enduring now.
In the last few days, many parts of the country have witnessed a sudden atmospheric change as a thick haze hangs over various vicinities.
Fine white dust particles sweep through villages, towns, and cities in the country from the Upper East region's Bolgatanga to the Greater Accra region.
It is believed to be the resurgence of the Harmattan season which was evidently missing weeks before February, convincing the masses it had ended its reign for the year.
The present weather condition makes an individual contemplate revisiting their 'sacred' harmattan traditions including throwing themselves under a duvet for warmth at night.
The Ghana Meteorological Agency in its third harmattan season advisory confirms "it observed, during its weekly weather forecast a week ago, high-pressure systems around the northern regions of Africa which were projected to stir up dust over the dust source region".
Consequently, dust was lifted from the Sahel – precisely from Chad, Sudan, and Niger – and blown through the country by low-level strong winds. This dry and dusty storm is expected to intensify in the coming days, according to the weather forecasting institution.
We probably could have endured the dry and sunny harmattan conditions.
But to add salt to injury, the air quality is now detrimental.
A recent observation by a real-time air quality information platform, iqair.com, reveals Ghana's air quality currently exceeds the permissible World Health Organization's annual air quality guideline value, with Accra being the most heavily polluted.
Atmospheric condition in the city has been described as 'unhealthy' as the air is immensely degraded with soot, dirt, smoke, and liquid droplets of about 2.5-micrometer diameter or less.
But should the citizenry be concerned?
Definitely! Aside from the direct health effects the current atmospheric conditions pose, its contribution to the already changing climate must not be an unmistakable concern not only for the government but individuals, too.
On health, the fine particles can permeate the respiratory tract, entering the bloodstream, feeding into the body's organs, and consequently causing diseases including lung cancer, stroke, chronic obstructive pulmonary disease, pneumonia, and cataract – according to WHO.
Health experts are advising the public to take precautionary measures including masking up to avoid contracting air-borne diseases or worsening an underlying health condition.
Contributing to the changing climate
An even pressing issue at hand is the contribution of these fine particles to the disturbing greenhouse gas levels hovering over the earth.
The World Bank reports Ghana's Greenhouse Gas (GHG) emissions as of 2019 stood at 37,650.00 kt of CO2 representing a 5.08% increase from 2018's 35,830.00 kt of CO2.
Ghana Greenhouse Gas (GHG) Emissions 1990-2023
Setting aside carbon dioxide, the country could be contributing more ozone-depleting gases including methane and hydrofluorocarbons into the atmosphere, defeating its commitment to unconditionally reduce greenhouse gas emissions by 15 percent by 2030.
Air pollution emissions in Ghana are characterized by a diverse mixture of combustion and non-combustion sources including biomass fuels and vehicle emissions.
Rapid urbanization in most cities in the country is increasing the demand for transportation, a new fleet of vehicles, and energy threatening the climate and air quality.
At a news conference in Accra on Monday, February 20, 2023, Executive Director of the Environmental Protection Agency, Dr. Henry Kwabena Kokofu appeared unhappy and worried over the drastic dip in the country's air quality.
He reiterated efforts by his outfit to ensure a safer environment would be fruitless if the people they seek to protect are themselves not committed to safeguarding the ecosystem as their actions continue to contribute to greenhouse gas emissions.
"Don't forget that Climate change has come to stay. Those of us under the Sahara must be prepared for more hardship. So if we are going to add on to the already natural occurrence, climate-induced effects, then we must sit up as a nation. The EPA and G.Met will continue to monitor the air, but what are you doing as an individual?" he quizzes.
The sentiment of the former Member of Parliament is one I justifiably share with.
The impacts of the changing climate are precarious, and Africa as a continent contributing less to the menace is at the receiving end of the vagaries of climate variabilities.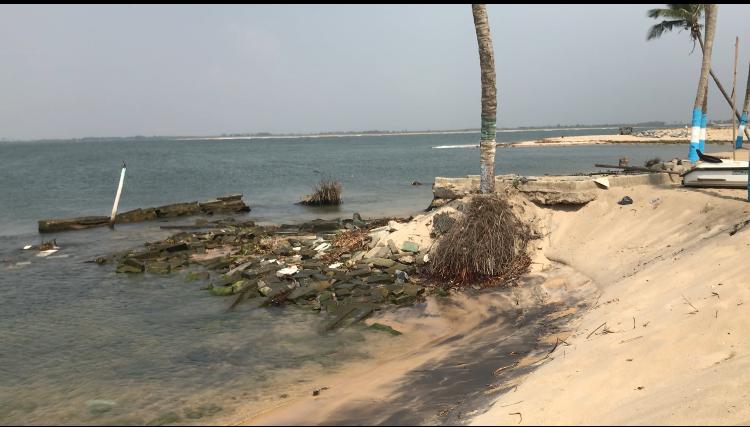 Communities along Ghana's coastal line are being wiped out as a result of the rising sea levels, flooding in cities is endangering safety as the amount of rainfall has increased, the 0.5°C increase in temperature and erratic rainfall are affecting farming activities posing threats to food security.
If the government fails to run a full-scale implementation of climate change policies, communities and vulnerable individuals including women, children and people with disabilities will continue to bear the brunt of the changing climate.
Our fight to mitigate and adapt to climate variabilities must not only end in the books but must translate into implementations.
Walking the talk
The government in its Nationally Determined Contributions for climate change has enlisted nineteen adaptation and mitigation policies across various sectors that reel under the impact or contribute to climate change.
But a chunk of these outlined measures has yet again become one of the many "words without actions" policies.
Gladly, the country has made headway in helping restore our forest cover after the government received some 4.6 million dollars for planting trees to sequester carbon.
The Forestry Commission is duly acknowledged for spearheading this project through the REDD+ initiative, but more can be done in various sectors contributing to climate change.
We may be planting trees but still effusing greenhouse gases on our roads. It nullifies efforts we're channeling into mitigating climate change.
Although Ghana, like many other African countries, does not contribute much to global emissions, the transport sector as identified as the third major contributor (9.2 MtCO2) to greenhouse gases, must be monitored by enforcing measures to ensure motorists are oozing poisonous gases into the atmosphere.
In 2016, ex-President John Dramani Mahama commissioned the urban transport system, later adopted as the Ayalolo bus system, to primarily ease congestion in major urban centers.
This transport strategy can be employed to have eco-friendly public transit in the country in a collective bid to reduce carbon footprints.
Commercial vehicle owners must be ready to leave behind their luxurious cars to join public transport to reduce the country's emissions.
The twelve mitigation policies adopted by the government must take its full course and not become a decoration on the government's shelf of fame!
We must adopt and finance a green and circular economy.
Climate action must be a clarion call for all!
Emmanuel Bright Quaicoe is a fellow of the 2022 Climate Change Journalism Fellowship (CCJF) Programme organized by the Media Foundation for West Africa (MFWA), a not-for-profit organization based in Ghana but working across West Africa.