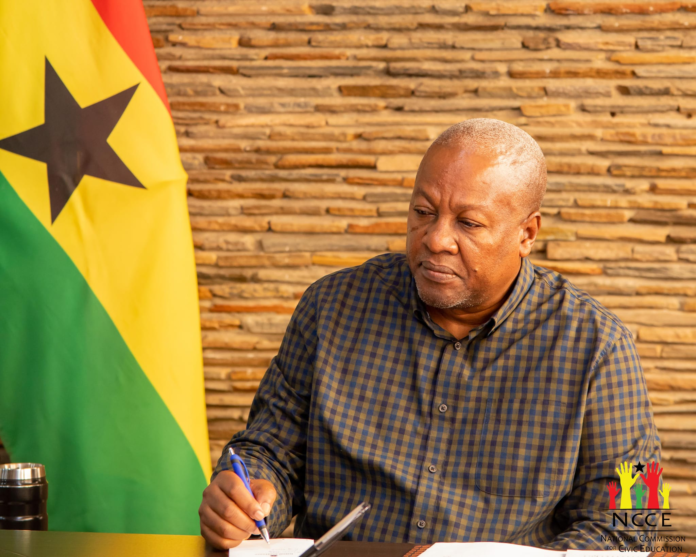 Concerned National Spare Parts Dealers Association has promised to fuel former President John Mahama's campaign vehicles for election 2024.
The move, according to them, is their quota to ensure Mr Mahama emerges victorious.
"We have decided to fuel all of Mahama's campaign vehicles during the campaign season and that will be our contribution to support his campaign for him to know how serious we are, desiring for his comeback so he can save the dying spare parts industry," he assured.
This comes after the former President on Wednesday picked his nomination forms to contest the National Democratic Congress' (NDC) presidential primary.
Prior to him picking the form, the Spare Parts Dealers and three other unions called on him at his residence at Cantonments and appealed to him to contest while they endorsed him.
Speaking on Adom FM's Burning Issues, the President of the Association, Kwabena Adjei, said the ruling government has disappointed them after they helped to campaign for NPP and Nana Addo Dankwa Akufo-Addo in the 2016 election.
"In 2016, Nana Addo, who was the presidential candidate for NPP, met us at Abossey Okai, he told us his vision for the spare parts dealers, and we supported his campaign with Ghc200,000," he said.
Mr Adjei explained further that after the NPP and Nana Addo won power, the government decided to ban the importation of salvage cars and used spare parts which were contrary to the promise Nana Addo, who was the NPP candidate, gave them.
ALSO READ:
Election 2024: Mahama's acceptability beyond doubt – Kwakye Ofosu
Okada riders, spare parts dealers, others storm Mahama's office
Mahama picks forms to contest NDC presidential primary
"We feel betrayed by President Akufo-Addo after giving him such an amount to support his campaign hoping he becomes president to bring relief to the spare parts sector, after he won he rather compounded our problem," he lamented.
Mr Adjei went on to say they have read the NDC 2020 manifesto and have seen where the NDC promised not to ban importation of salvage and used parts which they think is very laudable and is the reason they are rooting for Mr Mahama.
To him, they will support Mr Mahama the same way they did for President Akufo-Addo and NPP in 2016 in ensuring Mr Mahama wins the 2024 elections.