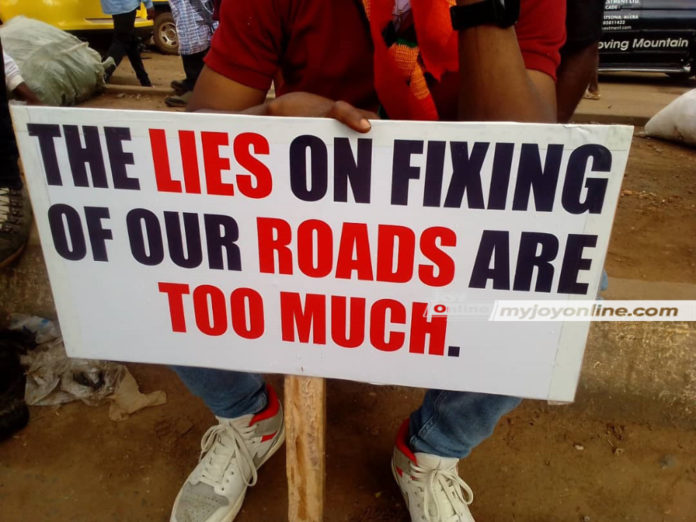 Some Ghanaians on social media are solidarising with the residents of Ashaiman in their protest today, Tuesday, October 3.
Scores of residents of Ashaiman defied early morning showers to show their displeasure over the deplorable roads in the municipality.
The residents say they are fed up with government's empty promises of fixing the road
The irate residents were, however, denied access to parts of Ashaiman which have these bad roads.
In response to this, the protesters blocked the Ashaiman traffic intersection, which connects Ashaiman to parts of Tema, Adjei Kojo, Oyibi-Somanya road and Ashaiman roundabout, connecting Ashaiman to the Tema-Akosombo highway.
Some social media users joined in the demonstration via #FixOurRoads.
We are all demanding for something bigger than ourselves, and it's time to be our brother's keeper. You're are either their keeper today or you will be their mourner tomorrow. We can't have it both ways.

Ashaiman, we're being your keeper today.

#OccupyJulorbiHouse#FixOurRoads pic.twitter.com/VCPifRQKmz

— Lexis (@niilexis) October 3, 2023
This is the road from Accra to Kasoa it's also used by motorists traveling to Cape Coast and Takoradi. It needs to be fixed #FixOurRoads pic.twitter.com/LA0fLnRvZK

— Sharyf (@__Sharyf) October 3, 2023
Some protesters of the #FixOurRoads have been arrested at Ashiaman.

— Dr Sneaker Nyame (@SneakerNyame_) October 3, 2023
Youth of Ashaiman protest for better road #FixOurRoads pic.twitter.com/faciIpWpTL

— Ameyaw Debrah (@AmeyawDebrah) October 3, 2023
#FixOurRoads pic.twitter.com/lUy09y6TzR

— Don (@Opresii) October 3, 2023
ALSO READ: