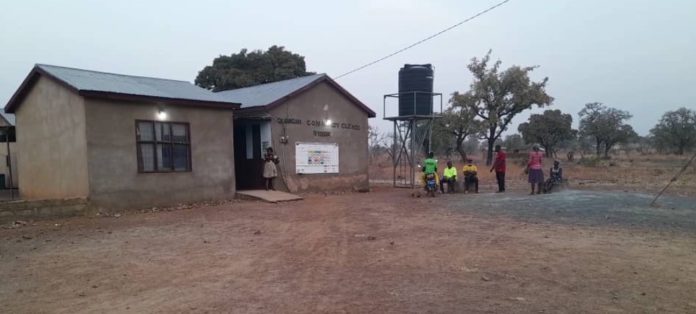 Nyobok health facility, which was built and handed over to the Ghana Health Service in 2014, has been left to rot putting lives in danger due to lack of maintenance.
The facility in the Nabdam District of the Upper East Region was built by a senior lecturer of the University for Development Studies (UDS), Dr. Vida N. Yakong, to make access for healthcare delivery easier in the area.
The facility, however, has since seen no facelift from both government, GHS not to talk of the Member of Parliament despite government posting health workers to work there.
The clinic, which serves most communities in the area, is left with deep cracks on the structure, the ceiling almost falling, the roof leaks and sometimes no electricity for the health workers to serve at night and no alternative source of power.
Some expensive beds brought to accommodate patients have also been parked and unused due to inadequate wards in the facility.
A midwife of the facility, Santumah Vida Dokmah, speaking to Adom News lamented the numerous challenges in the facility and called on the government to help find solutions to the challenges to help them serve well.
"We have several challenges but the dangerous part of it is when a pregnant woman is brought to deliver and it rains, water passes through the spoilt window and the doors. Some of the equipment too are not there making our work difficult," she lamented.
The lecturer, Dr Yakong, who built the health facility for the community, however, refused to watch the facility collapse and visited the health facility to work on the dangerous part of the structure.
She urged the Ghana Health Service to pay much attention to the clinic because it's not a private health centre but government.
"Since 2014 that this clinic was opened and handled over to the Ghana Health Service to support the system deliver service, it has never received any support from the health system or the government," she said.
She has, thus, taken the task of renovating the danger prone parts of the clinic.