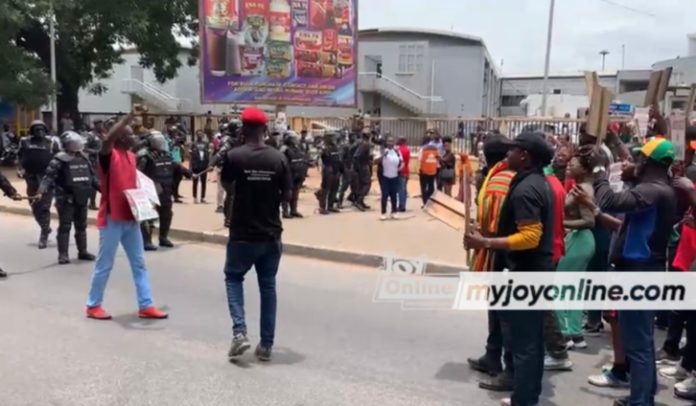 Friday's edition of the #OccupyJulorbiHouse demonstration is facing another hurdle.
The aggrieved protestors made up mostly of youth, converged at the 37 lorry station on Friday September 22,2023 in a renewed effort to march to the Jubilee House.
This is despite the fact that nearly fifty of them were arrested yesterday, September 22.
As soon as the march began, they were met by police in full riot gear in front of the 37 Military Hospital.
The officers have adopted a chain position with more armoured vehicles stationed behind.
Barricades have been set up to prevent the group from going beyond that point.
Meanwhile, the protestors, clad in red and black attire, have taken to singing the national anthem while calling out the government for what they describe as injustice and corruption.
Others also took turns to share with the group their personal reasons for joining the demonstration.
🇬🇭This is the scene of the #OccupyJulorbiHouse demonstration.

Blocked but unperturbed, protestors face riot control police as they attempt to advance to the Jubilee House via the 37 Military Hospital.

Credit: @KobbyKyei_ (IG) pic.twitter.com/rWivStYWwK

— Kenneth Awotwe Darko (@TheKennethDarko) September 22, 2023
The #OccupyJulorbiHouse demonstration aims to demand a range of reforms, including a reduction in the cost of living, an end to corruption, and improved governance.
Many celebrities have also been spotted lending their voices to the movement.
On the scene were notable personalities such as EL, Efia Odo, Kelvynboy, among others.
ALSO READ: