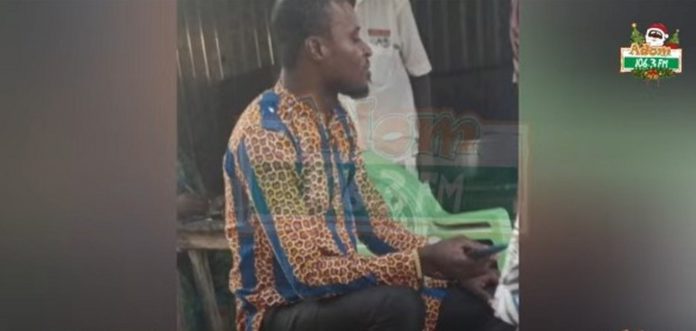 General Overseer of Grace Land Chapel international at Awutu Bereku, Prophet K.B.Y Ensonyameye aka Spiritual IGP, has been caught in the web of Awuku Bereku traditional leaders and Police.
This was after he allegedly bathed some women in the area over claims of revoking curses on them.
In an interview, one Auntie revealed that a victim, who was her shopkeeper, collapsed and was sent to the Awutu Bereku Health Center.
She was, however, moved to the suspect's church after health workers could not identify what the sickness was.
The Auntie revealed that Spiritual IGP allegedly demanded GHS950 to buy some spiritual bathing oils.
The woman said after paying the money, the pastor allegedly demanded an additional GHS900 to cleanse her shop.
ALSO READ:
Tema Traditional Council angry over "premature" spiritual baths by Newtown residents
He subsequently bathed the 18-year-old victim and allegedly inserted his fingers into her private part.
The traumatized victim said the pastor bathed her over five times amidst threats to curse her and the aunty.