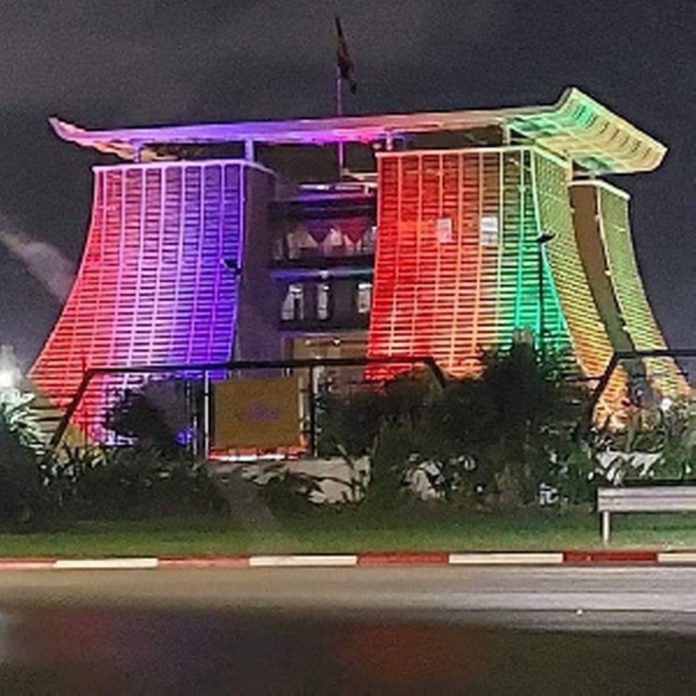 Information Minister, Kojo Oppong Nkrumah, has asked Ghanaians to disregard claims the Jubilee House was draped in LGBTQI+ colours to welcome US Vice President Kamala Harris.
According to him, it is misinformation with no iota of truth.
Setting the records straight, he said the colours the lightning gave off were a combination of Ghana and American colours and not the wild speculations out there.
"It seems some people are always more interested in things that pull the nation down. I have seen such things on social media and want to say it is not true.
"The ISD website which aims at combating misinformation on Monday published that there is always a national lighting moment when world leaders travel to countries," he said on Accra-based Okay FM.
The Ofoase-Ayirebi MP explained the lighting was the same thing that was done when the Burj Khalifa in Dubai was lit with Ghana colours when President Akufo-Addo visited the country.
Social media on Sunday night was awash with criticisms and claims after the two flags put side by side reflected the rainbow colours the LGBTQ+ community identifies with.
ALSO READ:
Akufo-Addo receives Harvard students at Jubilee House
There were divided opinions amidst claims that the whole episode was an attempt to propagate homosexuality in Ghana.
But Mr Nkrumah has urged Ghanaians to focus on productive things that will move Ghana forward and not trivial matters or misinformation.