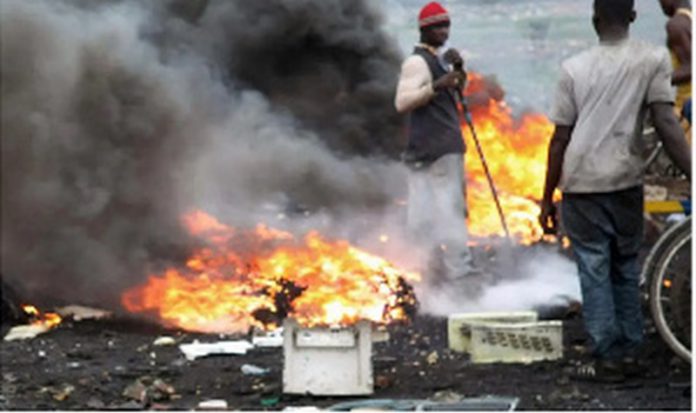 Burning any waste material, be it plastic waste, dried leaves, papers, tyres, clothing, or used sanitary towels anywhere is unlawful, Florence S. Kuukyi, the Director, Metro Public Health Department at the Accra Metropolitan Assembly (AMA) has disclosed.
This is because it is one of the sources of pollution that produces toxic air, harmful to the person engaged in the act of burning as well as people in the community and beyond.
The particulate matter emitted in the air causes lung and heart disease, cancer, infertility, low birth weight, premature birth, cognitive development problems, and premature death, Madam Kuukyi explained in an interview with the Ghana News Agency.
She said many people have died from respiratory disease caused by inhaling poor air quality.
She said aside from the two national laws, the AMA's Byelaw 2017 forbade people from openly burning waste materials.
"Under the AMA law for instance, a person commits an offence when found to be engaged in open burning and when found culpable, one is likely to pay a penalty of not less than 100 penalty units (not less than GHS 1,000/USD 100) and not more than 150 penalty units, or sentenced to prison from three to six months or both," she explained.
Madam Kuukyi hinted that despite the limited resources, AMA from January to July prosecuted 16 people at the sanitation court in Accra for engaging in burning waste materials in unauthorised areas, including their homes.
"We are going to get tough on people who engage in open burning. Air pollution knows no boundaries and people must stop indiscriminate burning," she cautioned.
She said through the Clean Air Fund, a sponsored project called "Breathe Accra," being rolled out, her outfit had placed air quality sensors in some areas to gather data to inform policy and to help them take the necessary actions.
"Results from the sensors just for this morning after a heavy downpour today show that Korlebu and Chorkor were over and above the standards. Mamprobi, Kanashie, and others are in the moderate zone," she said.
According to the Air Quality Index (AQI), the ideal or good air quality should be between the range of 0 to 50 on the index.
AQI from 51 to 100 is moderate even though there may be some health concerns for a small number of unusually sensitive individuals like children under five.
"…As you can see the sensor is reading 105 for Korlebu. It is not good because most people are there to receive health care and need clean, not polluted air," she said.
The unchecked open burning of waste in Africa is fuelling illness, premature death, and climate change, and needs to be reined in if we are to cut emissions and advance sustainable development within the 2020s, a report authored by D. Mebratu and A. Mbandi in 2022 has revealed.
Phasing out open burning of waste in Africa from a systems perspective would require addressing the structural deficiencies that exist in waste management practices, the report has said.
The report said Sub-Saharan Africa generated around nine percent of global waste as of 2016, or 180 million tonnes.
It said addressing the structural deficiencies in waste management and promoting a circular economy that prioritises reuse, recycling, and recovery would strengthen local manufacturing, create jobs, reduce unemployment, support inclusive and sustainable local and regional economies, and reduce air pollution and greenhouse gas emissions.