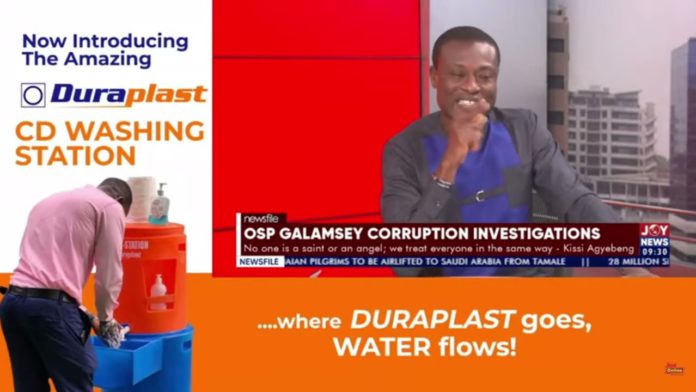 The Special Prosecutor, Kissi Agyebeng, has clarified that once a directive is issued for anyone to appear before the office with a lawyer, that person is considered a suspect.
According to him, the manner in which informers would be invited to the OSP will be different, and will certainly not include a directive for them to bring a lawyer.
Speaking on Newsfile on Saturday, June 10, the Special Prosecutor emphasised that, "If you are my confidential source…, there is a way I will contact you. There is a way I will invite you. There is a way I will talk to you because I need information from you.
On the other hand, he noted that "But if you are appearing before me as a suspect, there is also a way. I do not invite you. I direct you to show up because it is a criminal investigation. You are directed to show up. And in the direction to show up, you are specifically told what we are investigating and the subject matter of what we are investigating.
"And then in the direction for you to come, we tell you that you are a person who is considered necessary for the investigation. And there is a specific direction for you to show up at a specific address for the interview. Then you are told of your right, that when you are coming, you may come with the counsel of your choice."
Mr Agyabeng's explanation follows a disclosure made on June 7 that the former Minister of Environment, Prof. Kwabena Frimpong-Boateng, was arrested in May 2023 by the OSP.
The Special Prosecutor further explained that the office treats all people regardless of their status in the country equally due to the responsibility of his office as the conscience and spirit of the nation.
Consequently, he pointed out that, due to the concept of treating each individual equally, the manner in which one is asked to appear before the OSP is pivotal.
Additionally, Mr Agyebeng stressed that the OSP is a novel institution that operates differently.
"It is a very unique institution with powers that people are now trying to understand,"
Accordingly, he advised Ghanaians not to confuse the operations of his institution with those of other existing ones since the OSP does not require specific complainants before it begins to operate.
He explained that the OSP operates in such a manner that if any outlet, such as a newspaper publication, makes an allegation of corruption, it is sufficient for them to commence the investigation.