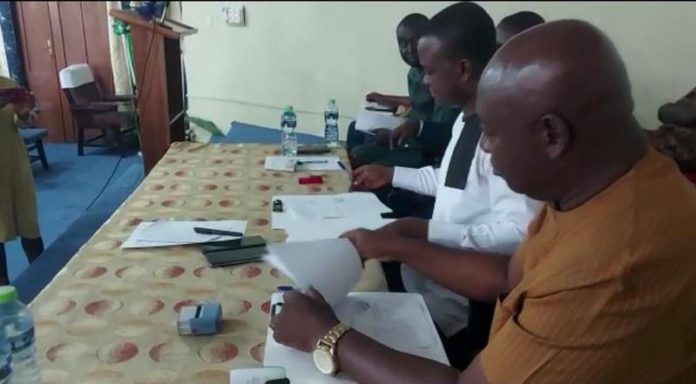 Vegetable producers in the Oforikrom Municipal Assembly of the Ashanti Region are receiving support to access high quality seedlings for production.
The local assembly has signed a memorandum of understanding with the Crops Research Institute of the Council for Scientific and Industrial Research (CSIR-CRI) to access onion varieties.
Municipal Chief Executive, Abraham Kwame Antwi, says farmers in the area import seedlings from Burkina Faso for cultivation, but they mostly run at a loss as the imports lose their quality whilst transporting.
With the high cost of imports, all-year round vegetable production becomes unbearable.
The assembly will resource the Institute with funding to research a variety of onions for a five-year period.
The output of the research will be distributed to the farmers to reduce the cost of their agribusinesses.
The farmers will have the privilege to choose from the variety of onions suitable for their lands.
Mr. Kwame Antwi believes proper research into crops will ensure food security.
The Ashanti Regional Director of Agriculture, Rev. Dr. John Manu, says inadequate funds for research has ruined the country's agricultural flamboyance.
According to him, importation of tomatoes and other vegetables from Burkina Faso could end if the CSIR-CRI is adequately resourced.
He wants the government to prioritise research in the implementation of flagship interventions targeting food security in the country.
"Government interventions like Planting for Food and Jobs and other programs meant to address food security depend largely on research but the Crops Research Institute is under-resourced," he observed.
Director of the CSIR-Crops Research Institute, Dr Moses Brandford Mochiah, reiterated the need for the Institute to be resourced by the government.
Allowances for research are not forthcoming, rendering the Institute ineffective to address critical food security challenges.
The Institute depends mainly on international organizations for funding which usually comes with strict restrictions.
Dr. Mochiah believes research institutions could be more effective to reduce importation of most foods if they had enough resources.
He acknowledged the move by the Oforikrom Municipal Assembly as a step for dependency and a new dawn in Agribusiness.
He entreated other assemblies to emulate the partnership for job creation and food security.