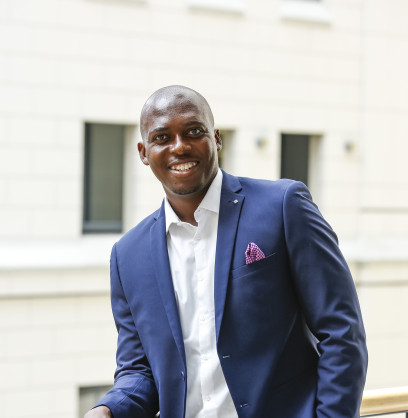 Network International (Network) (https://www.Network.ae), the leading enabler of digital commerce across the Middle East and Africa (MEA) region, has announced the appointment of Mpho Sadiki as Group Managing Director – Merchant Solutions, Africa. In this pivotal role, Mpho will manage the merchant solutions line of business across Network's African markets.
Mpho Sadiki brings to Network an impressive track record as a seasoned fintech professional with over 15 years of executive management experience in the Financial Services and Payments industry. His most recent role was as Chief Product Officer at Bankserv Africa, where he was responsible for product management and successfully led various verticals, including Card, EFT, Realtime Payments, Fraud, and Cash Management services. Prior to his tenure at Bankserv, Mpho held key positions at Nedbank and Deloitte, where he excelled in leading product and sales teams, with a primary focus on businesses that deliver innovative payment solutions to wholesale and consumer clients.
Commenting on Mpho's appointment, Nandan Mer, Group Chief Executive Officer at Network International, said: "Mpho's extensive experience in the Payments industry and his commitment to excellence align perfectly with our vision for the future. His appointment further underscores Network's commitment to enhancing its presence in Africa and advancing our position as a leader in digital commerce solutions. We look forward to Mpho's leadership and contributions as we continue to drive innovation and growth across our African markets."
Mpho Sadiki – Group Managing Director – Merchant Solutions, Africa at Network International, added, "I am truly excited to join Network International, a company renowned for its commitment to innovation and excellence in enabling digital commerce solutions. I look forward to collaborating with a talented team to provide world-class digital services to our customers, and contribute to our growth trajectory in the dynamic African market."
Mpho has a Bachelor's degree in Science from the University of Witwatersrand and an MBA from Wits Business School. He has also demonstrated continued commitment to leadership development through participation in programs at renowned institutions such as INSEAD and Duke University. Beyond his professional accomplishments, Mpho is an avid advocate for personal growth and mentorship. He gives back to the community through mentorship and career guidance.
Distributed by APO Group on behalf of Network International.
Media Contact:
Lambert Espedido
Network International
Dubai, UAE
Tel: +971 4 303 2431
Email: lambert.espedido@network.global
Akshata Datar
asda'a bcw; Dubai, UAE
Tel: 971-4-4507600; Fax: 971-4-4358040
Email: Akshata.Datar@bcw-global.com
About Network International:
Network International is the Middle East and Africa's largest and leading digital payments company. Our purpose is to help businesses and economies grow by simplifying payments and commerce. We operate in 50+ countries serving governments, banks, fintechs, merchants and public sector companies. We have over 2,000 digital payments experts based in our markets serving over 200 financial institutions and 150,000+ merchants.