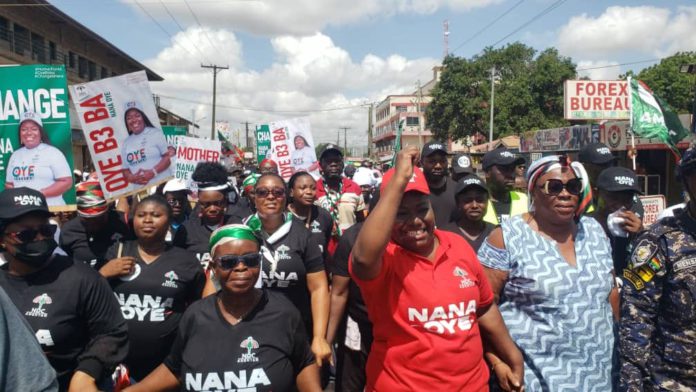 A former Minister of Gender, Children and Social Protection, Nana Oye Addo Bampoe, has filed her nomination to contest the parliamentary primary of the National Democratic Congress (NDC) for the Adentan Constituency. 
This will be Nana Oye's second time after losing the 2019 primary to incumbent MP, Adamu Ramadan.
She polled 558 votes, while her contender Mr Adamu Ramadan polled 730 votes. One vote was rejected.
Her decision to return she said follows consultation with relevant stakeholders.
Nana Oye together with her supporters submitted all the required documents and made all payments on Tuesday.
Addressing the media, the human rights lawyer promised infrastructural development and jobs for the youth in the constituency when voted for both in the primaries scheduled for May 13 and also the general election in 2024.
As a woman, she stated she can better understand the predicament of the people and will make women her priority.
ALSO READ:
NDC Parliamentary aspirant inflicted with cutlass wounds in robbery attack
The former Minister indicated she will institute measures and projects to empower women, adding Adentan will get a market similar to the Madina market.