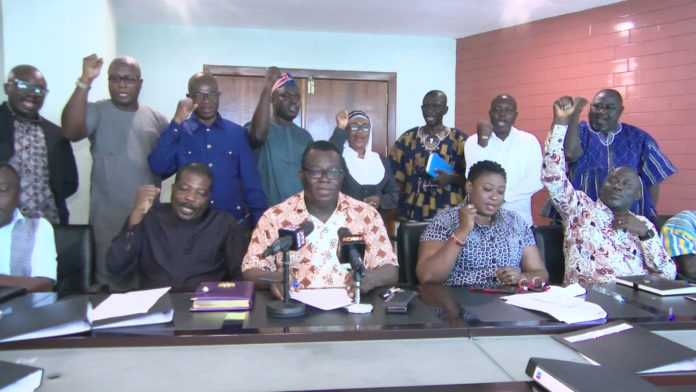 In a passionate plea to government, the National Association of Graduate Teachers (NAGRAT) has called for a return to the traditional trimester system in Senior High schools (SHS).
NAGRAT argued that, the current semester system is straining school facilities, infrastructure, and taking a toll on both staff and students.
At a press conference, Angel Carbonu, President of NAGRAT, highlighted the significant stress caused by the absence of vacation time for teachers.
This prolonged strain, according to NAGRAT, is not only affecting the well-being of educators but also compromising the quality of education.
The semester system, which was implemented in the past few years, was intended to address overcrowding and accommodate a surge in SHS enrollment.
However, NAGRAT contends that, it has inadvertently created new challenges.
The double-track system, which operates within the semester framework, has not alleviated these concerns as effectively as anticipated.
NAGRAT is now calling on the government to fulfill its promise by reverting to the trimester system and discontinue the double track approach.
The Association argues that, this shift will not only relieve the immense pressure on school resources but also improve the overall educational experience for both students and teachers.
Critics of the current system argue that it disrupts the traditional academic rhythm and places undue pressure on educational institutions.
Reverting to the trimester system, they noted, will provide students with more consistent learning opportunities and allow teachers the necessary time for rejuvenation and professional development.
As the government faces this call for change, the future of Ghana's secondary education system hangs in the balance.
The decision whether to heed NAGRAT's plea and return to the trimester system could have far-reaching implications for the quality of education and the well-being of teachers and students alike.
ALSO READ: