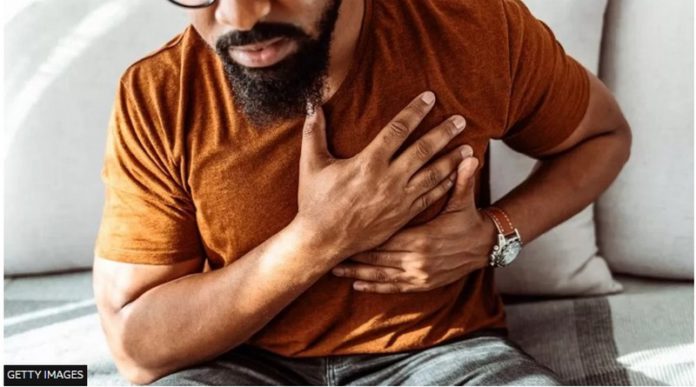 The Korle Bu Teaching Hospital's (KBTH) Cardiothoracic Centre recorded 16,946 outpatient department (OPD) attendances with varied heart diseases and 21 deaths from heart failure in 2022.
This comprised 8965 females and 7981 males, while the total admissions due to heart diseases for the same period was 904.
Acting Director at the National Cardiothoracic Centre, KBTH, Professor Mark Tettey told the Ghana News Agency (GNA) that hypertension, diabetes, and cholesterol problems were the major causes of heart problems presented to the centre.
He said the common cold caused by a bacterial infection that was not well treated also contributed to bad heart conditions, as the progression of untreated cold could destroy the valve.
Heart disease and cardiac strokes are the leading causes of death in the world. About 18.6 million people die each year due to heart disease or strokes.
Prof. Tettey said in Ghana, heart diseases and strokes were the number one cause of death and urged persons above 25 years old to check their blood pressure regularly.
"Nurture your heart; make sure you are not overweight; engage in exercises that nurture the heart and adopt healthy eating habit, do not eat too much fat and sugar as it can predispose you to diabetes and cholesterol issues," he said.
He said the heart is the most important organ in the body, it is the most complex, powerful, and important part of the body.
Human beings have put drastic damage to nature through pollution. 25 per cent of cardiovascular deaths are due to air pollution alone. About 7 million people die annually from heart diseases caused by air pollution globally.
The Professor said in Ghana, inappropriately disposed of mercury was strongly associated with hypertension, heart attack, stroke, and cardiac arrhythmias.
"It is time to use our efforts for preserving nature to reduce and restrict the air pollution entering nature and other damaging practices that are ultimately killing us. The healthier the planet earth is, the better the hearts of its inhabitants would be," he said.
Prof Tettey called for the establishment of a National Heart Institute, which would house facilities and equipment for the diagnosis, treatment, follow-up care of heart diseases, and research.
World Heart Day provides the opportunity for the public to learn about the heart and adopt lifestyles that will help nurture a healthy heart. The theme for this year's World Heart Day is, "Use Heart, Know Heart".
Heart diseases include heart attacks, heart failure, abnormal heart rhythms, valve disease, high blood pressure, and congenital heart conditions.
Symptoms of heart disease are chest pain, chest tightness, chest pressure, chest discomfort, shortness of breath, and pain in the neck, jaw, throat, upper belly area or back.