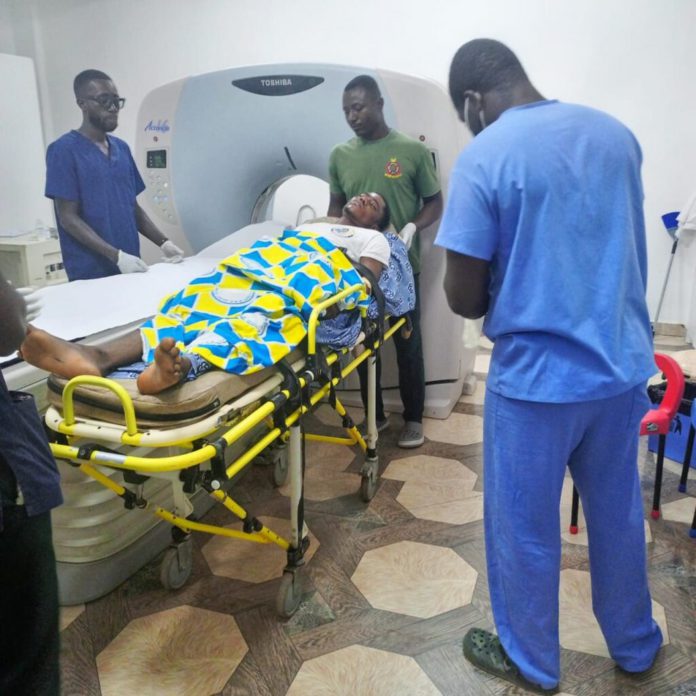 A 19-year-old Junior High School (JHS) graduate, Kwame Aidooo, is battling for his life after alleged military brutality at Gomoa Mprumen in the Gomoa West District of the Central Region.
Kwame, according to reports, was subjected to severe beatings by a spiritualist and some men in military uniform.
The brutality is said to have resulted in him being in a 10-day coma at the Korle-Bu Teaching Hospital.
Kwame's parents, speaking in an interview with Adom News, said he was referred from the Cape Coast Teaching Hospital.
Recounting circumstances leading to his condition, his father said Kwame, who was preparing for Senior High School (SHS) together with his mum and two siblings, were attacked by Abdulai Nyamekye, also known as Malam Yaa Waduudu, a spiritualist based at Gomoa Ankamu together with some men in military apparel.
The father said it was over a money dispute over a galamsey business they conducted at Kwaku-kwaa also in the Central Region.
The spiritualist and the said military officers upon meeting the absence of Aidoo's father at the family's residence resorted to brutalising them amidst sporadic gunshots.
ALSO READ:
Military intervention in Bawku conflict not an end in itself – Festus Aboagye
One reported dead in accident involving military vehicle
An eyewitness, Vida Arthur, said the horrific sight pushed a pregnant woman who is also a tenant into forced labour.
The mother of the victim, Gifty Awuku, who could not control her tears, has called for justice for her son.
However, Malam Yaa Wadudu, has denied the allegations levelled against him after the case was reported at Apam District Police Command.