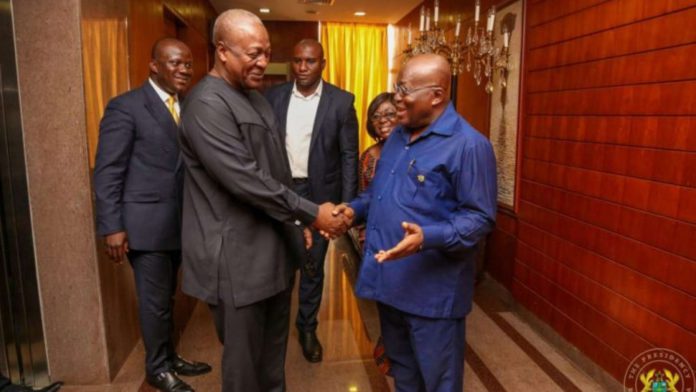 Former President John Mahama has said he is not happy that President Nana Akufo-Addo's government has failed to deliver on its promises.
He reiterated the Akufo-Addo-led government has refused to listen to opposing views and has therefore initiated programmes which are not well thought through.
"This government has been clueless and, in many ways, callous. We are saddled with debt, and we have been downgraded by every rating agency and inflation has gone off the roof, sending people into abject poverty," the former President said.
He said the next NDC government will conduct various probes into some corrupt deals under the Akufo-Addo government and all individuals found culpable prosecuted.
Despite this observation, Mr Mahama said it has never been his wish for his political opponents to fail.
"I'm not the kind of leader who derives pleasure from or who can smile at the failings of my country even the failings of my political opponent," he stated.
Mr Mahama, who is seeking to lead the National Democratic Congress (NDC) in the 2024 general election, made the remarks while launching his campaign in Ho on Thursday.
ALSO READ:
I will appoint less than 60 ministers, deputies – Mahama assures
Election 2024: Ghana needs experience not experiment – Says Mahama as he launches campaign
He stated it is his vision that Ghana will develop, irrespective of who is in power, whether NPP or NDC.
Mr Mahama, who has been touted as the presumptive presidential candidate of the NDC on May 13, 2023, will be contesting the flagbearership race with former Finance Minister, Dr Kwabena Duffuor, former Kumasi Mayor, Kojo Bonsu and businessman, and businessman based in the UK, Ernest Kwaku Korbeah.