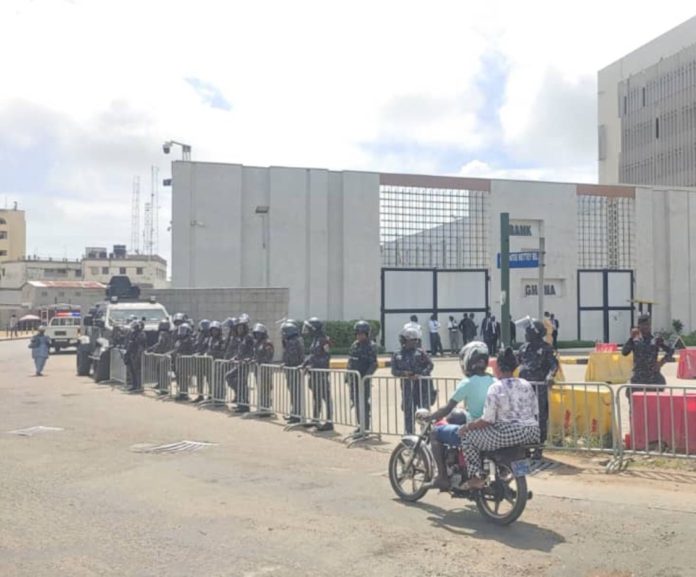 There is a heavy security presence at the Bank of Ghana (BoG) headquarters on the Atta Mills Highway in Accra amidst the #OccupyBoGProtest.
Scores of police officers, riot control officers, and heavy-duty police vehicles have been stationed at the precincts.
Barricades have also been mounted at the BoG headquarters and around the Supreme Court area, as well as Kwame Nkrumah Memorial Park.
The deployment is to prevent the protesters led by the Minority members of Parliament (MPs) from going to the BoG premises, which has been declared a no-go area.
The police insisted the reason for not allowing the group to terminate the protest at the said location was because it is a security zone.
Per the police agreement with the minority, the demonstrators were to converge at Obra Spot at the Kwame Nkrumah Circle and proceed Adabraka to Ridge Roundabout, National Theatre Traffic Light, High Court Traffic Light to Atta Mills Highway and make a U-turn at the National Lottery and terminate at the Independence Square.
However, Minority Leader, Dr Cassiel Ato Forson has argued that, the leadership must be allowed to present their petition to the BoG Governor, Dr Ernest Addison.
ALSO READ: