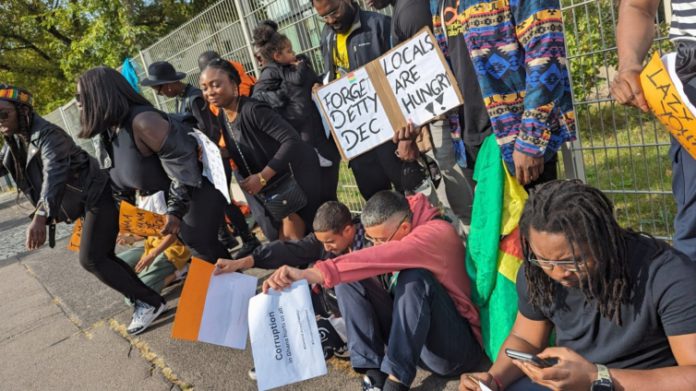 After a three-day protest organised by the #OccupyJulorbiHouse movement in Ghana, the demonstration was extended to London and now, Berlin.
In London, a group of protesters gathered outside the Ghana High Commission, making their voices heard in solidarity with the ongoing movement back home.
Numerous tweets have surfaced, sharing photos and videos capturing the unfolding scenes in Berlin.
More and more Ghanaians showing up to the Berlin embassy #OccupyJulorbiHouse pic.twitter.com/KZJJTWf73P

— Product Guy Ken (@peratov) September 30, 2023
Some of these videos depict Berlin police attempting to control the crowd of Ghanaian protesters who have assembled to voice their concerns.
Meanwhile, Product Guy Ken, now active on X (formerly Twitter), has been a prolific source of information, sharing videos and updates that showcase the growing participation of Ghanaians in the protest within Germany.
The #OccupyJulorBiHouse protest, spearheaded by the Democracy Hub in Ghana, has a two-fold objective.
#OccupyJulorbiHouse pic.twitter.com/X2b4vIflml

— Odartei (@droidmann) September 30, 2023
It seeks to compel the government to address the hardships faced by Ghanaians.
Thanks to German police for the protection
Our peaceful protest lasted 3 hours and we were able to engage the embassy officials.

The fact that sponsored party loyalists showed up to "fight" the demo is a clear indication demos work.#OccupyJulorbiHouse #Berlin pic.twitter.com/MjQ1FVJgQx

— Product Guy Ken (@peratov) September 30, 2023
Additionally, the protesters are advocating for the government to address various issues plaguing the nation, including the challenges posed by the struggling economy.