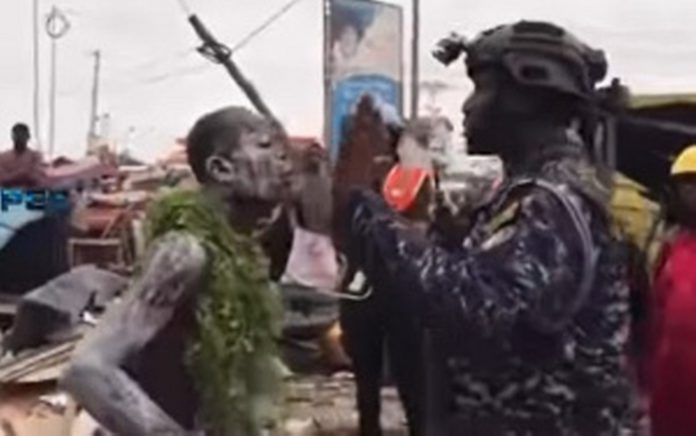 It was a dramatic turn of events after a yet-to-be-identified fetish priest attempted to stop a demolition exercise by the Accra Metropolitan Assembly (AMA) at Nima.
The fetish priest was arrested by the police on Wednesday after he was reportedly invited by residents to halt the process.
A video from the scene that has gone viral on social media captured a visibly furious-looking fetish priest being followed by a crowd who cheered him on.
The fetish priest was spotted in his underpants, with a red cloth wrapped around his waist, and herbs coiled around his neck, briskly walking with powder covering his face.
Amidst the cheers from the crowd, he was seen pouring out the components of a bottle he was holding in his hand, perceived to be local gin, 'akpeteshiie, as he approached the demolition site.
In a confrontation with policemen who were present to supervise the exercise, an order for him to retreat fell on deaf ears.
One of the policemen, believed to be the leader of the team, then ordered for him to be whisked away.
The action, however, did not deter him from protesting the demolition as he screamed out his opposition, saying this is the property of Bio.
The video shared by a Twitter user, Aboagye has attracted hilarious reactions.
Watch the video below:
There's a demolition exercise going on in Nima and boys called a fetish priest to come and intervene 😂😂😂 they have arrested the fetish priest as we speak. 😂😂😂😂😂😂 pic.twitter.com/wZJ61DC6VA

— Aboagye (@Aboagye_L) August 16, 2023
ALSO READ: