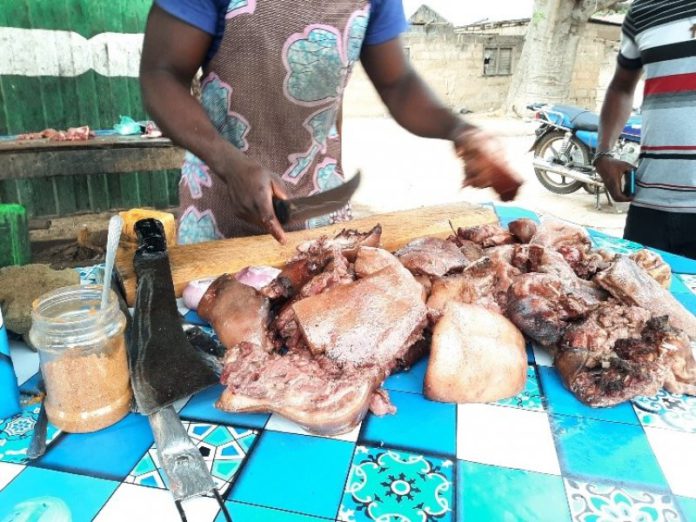 If you are a pork lover, be prepared to pay more for the product starting December 1 because the Pig Farmers Association of Ghana has announced about a 20 percent upward adjustment in the farmgate price of the commodity.
A kilo of live-weight pork, which currently sells at 25 cedis, will now be sold at 30 cedis, while carcass pork will increase from 35 cedis to 45 cedis per kilo.
Making the announcement at this year's Porktober, an annual pork awareness event, President of the Pig Farmers Association, Kwame Appiah Danquah, attributed the increase to the high cost of production.
"Our new prices for the year starting December 1, 2023, are a minimum of GHS 30 per kilo for live weight and GHS 45 for carcass pork from the farm gate. I am stressing 'farm gate,' so if you go and buy it in Accra, don't expect it at that price because there will be other additional costs due to transportation and other factors that would have to be catered for."
In order to ensure fair and competitive pricing to enhance the sustainability of the pig industry, the farmers said plans are underway to adopt a pricing strategy for pork and its related products.
The pig farmers say this should be complemented with other viable sources of financing from partners to reduce the financial burden on farmers.
"The Association is actively seeking funding opportunities. This approach is aimed at striking a balance between farmers and consumers, taking into account market dynamics and production costs.
"The primary challenge facing pig farmers is financing. To address this issue, the association is actively exploring opportunities for input financing to facilitate access to capital to improve the pig farming industry in the country," Kwame Appiah Danquah added.
ALSO READ: